SALEM, Va. — Three years ago, the North Georgia softball team began its historical national championship run with a 1-0, no-hit loss to The University of Indianapolis. Today the Nighthawks find themselves in a similar situation after falling 1-0 to The University of Southern Indiana in the NCAA Division II Softball Championship in Salem, Virginia.
"We take what we can from this game and put it behind us," starting pitcher Kylee Smith said. "Tomorrow is a new day and I think we just come out like we have all season and we give it our best."
Although UNG suffered its third loss of the season, Smith continued to dominate hitters by striking out six Screaming Eagles batters. However, North Georgia was plagued by defensive miscues, timely hitting by USI and missed opportunities by the UNG offense.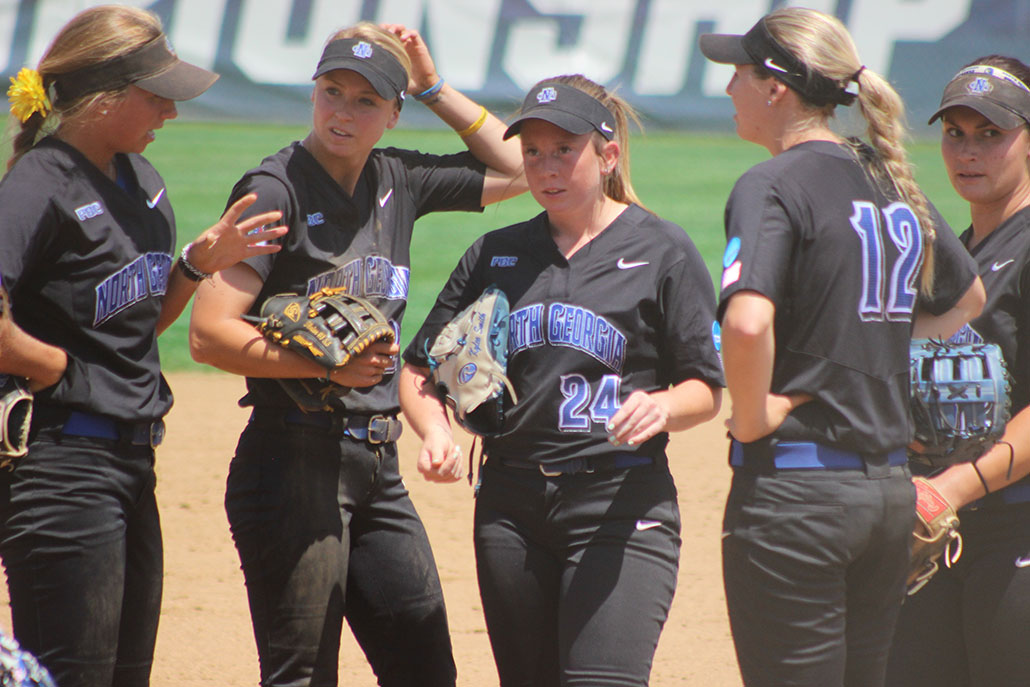 The Nighthawk defense has played exceptionally well as of late, going 40 innings of error-less softball before committing its first of two errors during the sixth inning of today's contest. Going into the tournament, UNG ranked No. 3 in the nation in fielding percentage.
"A defensive mistake that we normally don't make, the timing of it, it happens," head coach Mike Davenport said. "We got the leadoff double in the bottom of the fifth and we did nothing with it. And then in the sixth we got the leadoff runner on, moved her to second and did nothing with it."
The leadoff double by Alishia Frierson would prove to be the only hit the Nighthawk offense earned off Southern Indiana pitcher Jennifer Leonhardt. The USI pitcher struck out 11 hitters and only allowed three baserunners over seven innings.
"Jennifer Leonhardt threw extremely well against us," Davenport said. "She made us look silly at times, 11 strikeouts are very impressive for her, especially for the first game of the 2018 tournament."
Leonhardt was also able to deliver at the plate, knocking in the only run in the game with a RBI single to left field to earn the eventual game-winning run.
North Georgia will look to bounce back from the loss and keep their national championship dreams alive for the 2018 season.
"You have a team tomorrow that is going to be coming off a loss as well," Davenport said. "It's which team handles that loss better, whether you feel defeated and you're not ready to compete for the long run or one of the teams is going to come out and be ready to battle."
The Nighthawks will face off against West Chester University tomorrow at 4 p.m. in Salem in the first elimination game of the tournament, with the winner continuing its 2018 season.