SALEM, Va. — The bus continued to drive its way to a national championship for North Georgia after defeating West Chester University with a 4-0 victory in Salem, Virginia on Friday.
After a one-hit performance Thursday afternoon head coach Mike Davenport saw it necessary to make a few changes to Friday's lineup that seemed to provide a much-needed spark for the Nighthawks.
"It's been something I've been thinking about for about three weeks. It's kind of hard to pull the trigger when these young ladies have gotten over 60 wins," Davenport said. "After yesterday I felt they needed a little bit of something whether it was a mental thing for them or an actual statistical thing."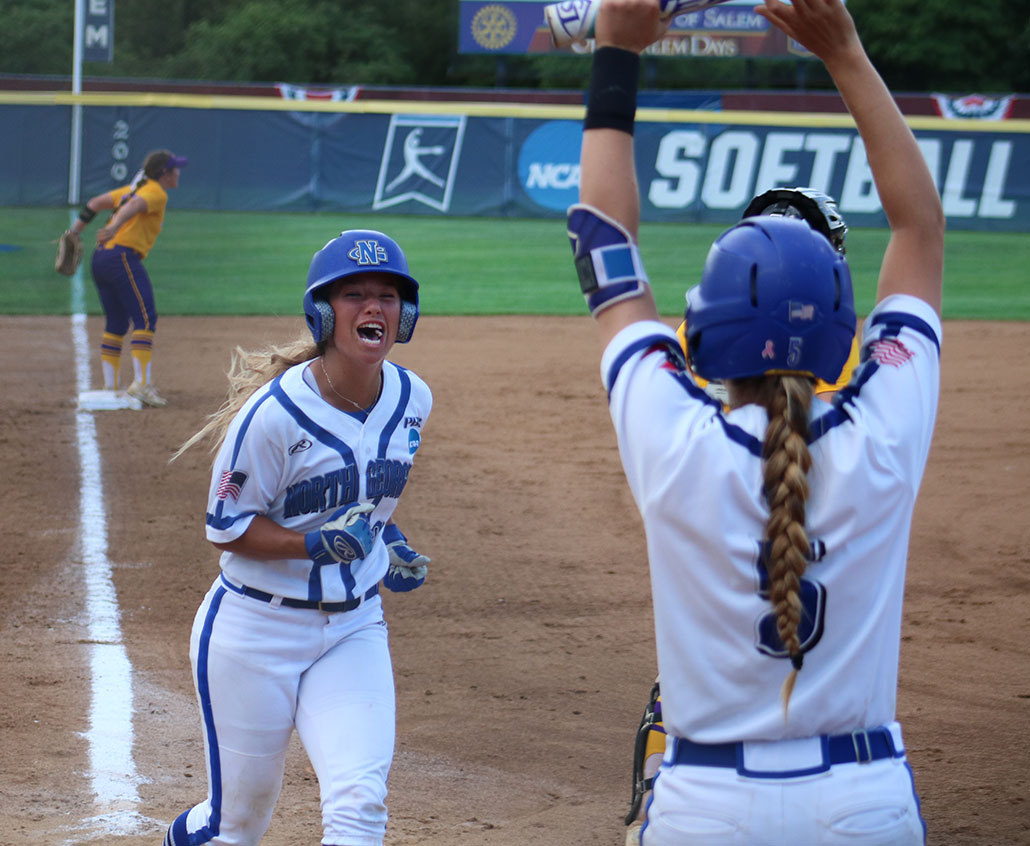 While moving a hitter who had gone hit-less in her last nine at bats to the leadoff spot may seem like more than just a little change to some, Davenport did just that when he moved senior Brittany Gilliam from hitting third to leading off the Nighthawk lineup. The Florida native made good use of her opportunity by knocking in Marley Stowers and Jordan Deep in the bottom of the second to make the score 4-0 for North Georgia.
"My teammates set me up for success in that position," Gilliam said. "They put me in that position that I could come through and I was just very excited that we could come through in that moment."
The two-RBI double by Gilliam came after Alishia Frierson and Jordan Deep each sent home a run off back-to-back doubles to give UNG a 2-0 lead. The four runs would prove to be enough for Kylee Smith as she was able to throw six shutout innings while striking out four WCU hitters.
On to relive Smith came Amber Johns who threw the seventh inning and shut the door on the Golden Rams to secure a 4-0 victory in the first elimination game of the 2018 NCAA Division II Softball Championship for the Nighthawks.
"[Johns] has got so much ability. The young lady is 18-0 right now for us," Davenport said. "We need her to get through these next three days."
After committing a costly error in Game 1, the UNG defense bounced back, assisting the pitching to keep the Golden Rams scoreless.
"The ability of our defense to take away some singles and today some doubles," Davenport said. "That just relieves you with some pressure as far as pitching. They can attack the zone knowing they have good defense behind them."
The win preserved North Georgia's stay in the competition after dropping the tournament opener 1-0 to the University of Southern Indiana while also ending West Chester University's season.
The Nighthawks will face off against Saint Leo in another elimination game. The Lions were defeated by Saint Anselm earlier in tournament action to fall into a matchup with North Georgia in the loser's bracket.
"We'll do some scouting on them tonight and again attack it like we did today," Davenport said. "Go out and really leave nothing in the tank because at the end of seven you better be on top or you're going home."
Tomorrow's matchup between UNG and Saint Leo will begin at 8:30 A.M. due to potential inclement weather conditions. The winner will continue their national championship campaign while the loser's 2018 season will come to an end.