The first weekend of October was a wild one for the college football landscape. A whopping nine AP Top 25 teams lost in week five, including five programs in the top 12 of the rankings.
The chaos started in South Bend, Indiana, as No. 7 ranked Cincinnati took down No. 9 ranked Notre Dame by a score of 24-13. The Bearcats are a controversial topic, as they do not belong to a Power Five Conference, which in the past, has hurt other small programs' chances of reaching the College Football Playoff. However, a win over a highly regarded team like Notre Dame pushed Cincinnati to No. 5 in the AP Top 25 Poll.
The No. 2 Georgia Bulldogs obliterated the No. 8 Arkansas Razorbacks 37-0 in Athens, Georgia. Georgia came into the game a heavy favorite, but it likely still came as a shock to some to see the final score being so lopsided. Georgia dominated the game from start to finish and have cemented themselves as title contenders thanks to the No. 1 ranked defense in the country, per NCAA.com.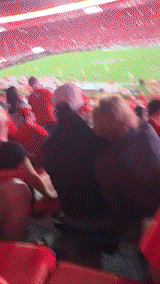 The biggest upset of the week came in Stanford, California, as the unranked Stanford Cardinal took down the No. 3 team in the country, Oregon. Stanford stole a 31-24 win in double overtime, shaking up the Top 25 rankings by dropping Oregon to No. 8. Oregon was the highest-ranked team to fall in week five.
Nicholas Hegdahl, a sophomore accounting major at the University of Oregon, says, "I'm used to the disappointment. We lose one or two games in excruciating fashion every year, and the refs always have something to do with it."
The frenzy did not stop there, however. No. 10 Florida, No. 15 Texas A&M, No. 18 Fresno State and No. 20 UCLA were all defeated by previously unranked opponents.
To top it all off, following a narrow 19-13 victory at home against Boston College, Clemson fell out of the AP Top 25 for the first time since 2014.
Week six will bring multiple ranked matchups to the table. The slate features a Big Ten showdown between No. 3 Iowa and No. 4 Penn State, which will have a major impact on the CFP picture.