There is evidence of sightings in Georgia and the United States that UFOs are present in our airspace. 
Documents from the Jimmy Carter Library show that during his presidential campaign, Georgia native President Jimmy Carter told the National Enquirer, "If I become President, I'll make every piece of information that this country has about UFO sightings available to the public. I am convinced that UFOs exist because I have seen one."
According to a report filed by Carter in 1973, he saw an unidentified flying object in October 1969. He was in Leary, Georgia at a Lion's Club meeting. 
"10-12 men all watched it. Brightness attracted us," he wrote in the report. 
Carter said they were outdoors waiting for the meeting to start. He also said that it was difficult to see and about 300-1000 yards away. 
When asked about the size, he wrote "About the same as moon, maybe a little smaller. Varied from brighter/larger than planet to apparent size of moon."
Carter also added that it changed in brightness, size, color and appeared to stand still at a time. He said that it appeared from the west, disappearing after it moved away.
MUFON, or Mutual UFO Organization is a worldwide UFO group that studies reported UFO sightings. MUFON is a non-profit organization that is volunteer-based. They were founded in 1969.
Douglas Wilson, MUFON Director of Investigations for North America, details his definition of what a UFO is and if the government is doing enough for UFO research.
What is your definition of a UFO?
Wilson: "I stand by the same definition as anyone else: UFO stands for unidentified flying object. Of course, the government likes to say UAP, which is an unidentified aerial phenomenon. It means the exact same thing. The three-letter-moniker UFO has taken on a mystique in our popular public mind, so the military and government prefer something with a little less stigma attached to it. 
Wilson also mention, "However, there are also anomalies. And that's really what a UFO investigator does." 
"At MUFON, we have about a 73% rate of absolute identification." He also mentioned that the rest of their cases are information only, insufficient data, hoaxes, then unknowns. 
What can someone do if they think they have seen a UFO?
Wilson: "The best thing that I can do is go to the MUFON website. If they look at the website, there's a prominent link that if they click that and fill out the report. I always tell people to put as much information as they can. Every report that gets submitted, if it looks like a genuine report, always gets a full investigation."
In the last year, there have been 118 reports filed to MUFON from the state of Georgia. Wilson mentioned that there has been a spike in reports coming from Georgia in the last few months. He also mentioned that California has the most reports filed. 
You can request a report via email to MUFON if you are interested in seeing certain reports. For example, if someone were interested in reports filed in Georgia at a certain time, then they can give their parameters to MUFON and get results based on that. You can submit a UFO sighting report here.
Do you think the government has done enough in terms of research and acknowledgment of UFOs?
Wilson: I believe they have. I don't think our government is lazy and I don't think our government is foolish. I think our government has done as much research as they think they need to do. Now, the other side of that question is have they told us what research they have done and to that, I say absolutely not. I do believe they have done their job, they're just not sharing the information with the rest of us."
"We've made some significant strides in the last few years. We finally have the government, well the Pentagon at least, coming out and saying that they do have unidentified aero phenomenon that they cannot explain," said Wilson. "They have admitted it. They have admitted that those objects can outmaneuver our best aircraft. They've admitted the technology involved, and they did say 'technology', is beyond anything the United States has or is likely to have any time soon."
Wilson also said, "There's actually a Pentagon official, he was asked 'Do you think it's Russia or China?' and his response was 'You better pray to God it's not.'"
"That tells me that that Pentagon official is thinking that it's somebody other than our adversary. He says it's definitely not us. Well, what does that leave us with? It leaves us with one or two sketchy options and the least sketchy of those options would be extraterrestrial intervention."
U.S. Sen. Kirsten Gillibrand, D-N.Y., is backing an amendment that is about UFO information within the government that is being withheld from the public, mentioned Wilson.
On that, Wilson said, "they will have a UFO study group that will not only be staffed by government people, but also by members of the public so that the information will be free-flowing."
"In my opinion, this proves UFOs are real. This photograph is very clear. It is taken from an airplane. An airplane was flying over the Venezuelan jungle. A photographer in the airplane saw and photographed a UFO," said Wilson.
This photo was taken in 1969 with a standard film camera. 
More information on MUFON can be found here.
On the May 16 episode of "60 Minutes," host Bill Whitaker talked to a former government employee and a few military personnel on their experiences with UFOs. 
"The mission of AATIP was quite simple. It was to collect and analyze information involving anomalous aerial vehicles, what I guess in the vernacular you call them UFOs. We call them UAP," said Luis Elizondo, who worked at the Pentagon on the Advanced Aerospace Threat Identification Program, or AATIP.
Elizondo went on to say, "Imagine a technology that can do 6-to-700 g-forces, that can fly at 13,000 miles an hour, that can evade radar and that can fly through air and water and possibly space. And oh, by the way, has no obvious signs of propulsion, no wings, no control surfaces, and yet still can defy the natural effects of Earth's gravity. That's precisely what we're seeing."
No signs of propulsion or wings seem to be a common thread among UFO sightings. Former Navy pilot Lt. Ryan Graves gave Whitaker his take on an incident near Jacksonville, Florida.
"This is a difficult one to explain. You have rotation, you have high altitudes.  You have propulsion, right? I don't know. I don't know what it is, frankly."
In the same sighting, sound bites of the pilots can be heard saying, "Look at that thing, it's rotating! My gosh! They're all going against the wind, the wind's 120 knots to the west. Look at that thing dude!"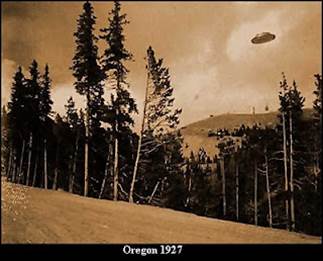 In 2004 near Southern California, an incident was documented by camera, radar, and four Navy aviators. David Fravor, commander of an F/A-18F squadron on the USS Nimitz talked to Whitaker about the experience. 
"So as we're looking at this, [Alex Dietrich] back-seater says, "Hey, Skipper, do you…" And about that got out, I said, "Dude, do you, do you see that thing down there?" And we saw this little white Tic Tac-looking object. And it's just kind of moving above the whitewater area…The Tic Tac's still pointing north-south, it goes, clicks, and just turns abruptly. And starts mirroring me. So as I'm coming down, it starts coming up." 
"It was aware we were there," said Fravor. 
He went on to tell Whitaker how the experience ended, "I want to see how close I can get. So I go like this. And it's climbing still.  And when it gets right in front of me, it just disappears…So your mind tries to make sense of it. I'm gonna categorize this as maybe a helicopter or maybe a drone. And when it disappeared."
This experience, like others with UFOs, disappeared and was untouched by government officials until Elizondo investigated it a few years later.  
"We spend millions of dollars in training these pilots. And they are seeing something that they can't explain," said Elizondo. "Furthermore, that information's being backed up on electro-optical data, like gun camera footage. And by radar data. Now, to me, that's compelling."
AATIP's funding was cut off in 2012. 
In 1997, multiple people across the Phoenix, Arizona area reported that they had seen a group of five lights in the night sky, and called the event "The Phoenix Lights."
Since then, multiple people have come forward claiming to have witnessed the lights including, Rock n' Roll legend Alice Cooper, actor Kurt Russell and then Arizona Gov. Fife Symington.  
"I'm a pilot and I know just about every machine that flies. It was bigger than anything that I've ever seen," said Symington to NBC News in 2007. "It remains a great mystery. Other people saw it, responsible people. I don't know why people would ridicule it."
John Greenewald Jr., owner of the online database The Black Vault, said in the Showtime docuseries "UFO," "With UFOs, nothing is ever black and white. There's always mud in the water of trying to figure out these stories. There's half a century of secrecy relating to this."