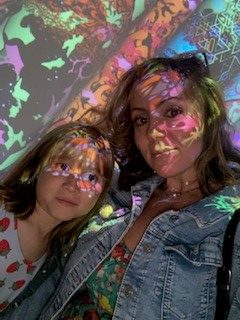 Olya Taushan moved to America with her daughter from Ukraine nine years ago. She may not be fighting the war in Ukraine, but she fights her own battles every day. She struggles with guilt, sleepless nights, panic attacks and continuous anxiety as her family abroad fights to stay alive. She has begged her parents, brother and his family to come stay with her, but they insist on staying and fighting for their country. Her brother just joined the Ukrainian military.
When the war first broke out her parents spent many nights in a shelter, located in a nearby elementary school basement. The elders were forced to sleep on a cold concrete floor, with no toilets, beds, chairs, or heat during the bitter cold months of winter in Ukraine. The proximity with other Ukrainians caused many to die from COVID-19.
"I was a nervous wreck when I first found out. You feel hopeless, you can't do anything. You are here and they are there."- Olya Taushan
Taushan was in such a dark place that she felt she needed medical help because she was having difficulty caring for her daughter. She was prescribed Xanax that she said helped her with on-the-spot panic attacks, but later made her feel very unlike herself. She ultimately decided to stop the medication when she started having suicidal thoughts.
Taushan now tries to focus on a more natural approach to deal with the anxiety and depression. She uses breath techniques, prayer, finding happiness in the small things. She likes spending time with her daughter, yoga, painting and takes herbal supplements like Ashwagandha and Saffron.
She also pays careful attention to how she spends her time. She said, "I cannot watch the news much anymore. I can't see pictures of little girls who have been raped and left dead on the side of the road. They're the same age as my daughter and it breaks my heart to think of my own little girl. It only makes me feel worse."
Taushan now calls her mother every day to check in and see how things are going. Her mother originally lived in constant terror, but now has taken the philosophy of what's meant to happen will. Taushan said that her mother has also come to a recent peace with her mortality.
Many news platforms have grown silent, but the war continues to go on. They are approaching winter again and need supplies to help them survive the harsh Ukrainian climate ahead. Taushan's parents are now back at their apartment. They are only allowed to use the heat a few times a week for just a couple of hours. If there is a nearby attack happening, they are not allowed to use any electricity as it makes them a more vulnerable target. They need extra food, blankets and toiletries to survive. Taushan's church has already donated some handmade quilts among other things. Taushan recommends donating to Ukraine through the Katya Helping Hands Fund.