More Than Clay: The Career of Brad Walker
There were three gas stations in downtown Dahlonega, and highway 400 did not exist when Brad Walker opened his pottery shop in 1975. Walker began doing pottery in 1966, but did not start it as a full time job until 1974. 
"I never had a pottery course at all, just taught myself" says Brad Walker, owner of Brad Walker Pottery in downtown Dahlonega. "I didn't know a damn thing about it other than what I was learning myself." 
Several people helped influence Walker during his early years in pottery. One was a Georgia Tech professor of ceramics. Walker says that he knew he was getting good at glazes when "I showed him this glaze and it was the only formula of mine he ever wrote down.
In the beginning Walker did a lot of traveling and pottery shows. He would go all the way to Coconut Grove, Miami to sell his works even though he had the shop in Dahlonega, Georgia. 
The main obstacle in opening his own shop was making a living. "I couldn't always make what I wanted to make. I had to make what sold." Although Walker had to make many sacrifices, it was worth it so that he didn't have to work for someone else. Through sheer stubbornness, Walker made his shop a success. 
During the first two decades of keeping up his shop, Walker solely focused on making great ceramics. Over the years since then, he has realized that he has more to give than just pottery. Once he realized that, he realized his real purpose.
"When someone walks in that door that might need a little help somehow, I just have the ability to give it…and that's a hell of a lot more interesting to me than making another mug that day." – Brad Walker, owner of Brad Walker Pottery
Although Walker doesn't have a favorite item he makes, he is fond of poem pots. They combine his love of pottery with his desire to write. "It kept my creative juices going when I would write and when I would do the pieces that I liked to do, but it's not necessarily the pieces I made my living with." Walker can sell two and a half to three dozen mugs a week, each mug has 150 brush strokes. "It has a lot of work to it," he says. 
Through interacting with Dahlonega's community, Walker realized that "you never know how you can influence someone out there. You don't have to lift the world on your shoulders or anything like that, just simple stuff."
Leave a Comment
Your donation will support the student journalists of University of North Georgia. Your contribution will allow us to purchase equipment and cover our annual website hosting costs.
About the Contributor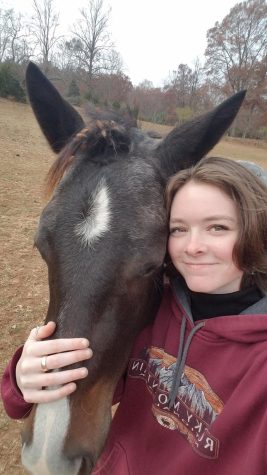 Mackenzie Anderson, Staff Writer
Hi! My  name is Mackenzie! I am a sophomore from the Dahlonega campus. I am getting my degree in Communications with a minor in Spanish. My favorite part...