Truex Prevails in Caution Fest of Year Two of Clash at LA Coliseum
NASCAR returned to the LA Coliseum for their second year in a row to kick off their season with the "reimagined" Busch Light Clash. This coming off the heels of a first successful run of the preseason race last year, which saw an audience of 4.28 million viewers on FOX a five year high for the event.
NASCAR made some tweaks during the offseason for this race which included adding more cars to the main event from 23 cars to 27 cars.
The qualifying heat races stayed the same from last year with four heat races and a last chance qualifier. Drivers that finished top five in their respective heat race would advance to the main event.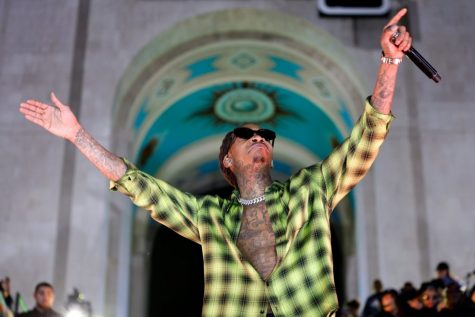 NASCAR once again brought different musical acts to perform during the event on Sunday including, with Cypress Hill leading pre-race performance, additional acts by Cheat Codes, Dixie D'Amelio, and a special "halftime" performance by Wiz Khalifa.
This years running of the main exhibition didn't come without excitement, last year this race had only five cautions, while this year's race had a whopping total of 16 cautions. The race had a total of five different leaders throughout the 150-lap main event.
Ryan Preece driver of the no. 41 car, led the most laps in the race with 43 laps. Preece ran into issues around lap 120 and gave up the lead. "We had such a fast race car, when I was leading the race, the fuel pump started to miss… it was cutting in and out and that's why I lost all those spots so quick. It was upsetting to lose this race," Preece said.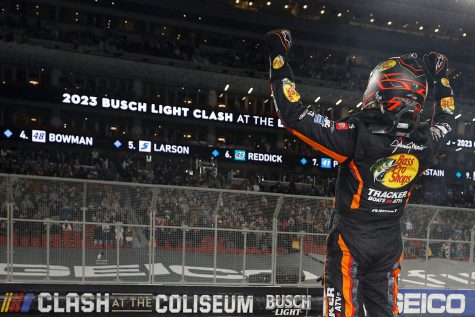 Martin Truex Jr. would be the driver that ended up in victory lane, leading the last 25 laps. This is Truex's first Cup Series win since the fall Richmond race back in September of 2021. Truex commented on his struggle from last season after the race "Honestly, we were probably the worst car here last year, literally, besides maybe the guys that didn't have charters. We were just God awful. It's a huge confident booster."
"Any of these races are hard to win. Doesn't matter if there's points or not. We're proud of this one. It's a big deal." – Martin Truex Jr., said post race speaking to the media.
After the race some drivers were upset at how the drivers drove in this race compared to last year. "I mean, last year's show I felt like was relatively clean and good racing, some bumping, some banging, but we could run long stretches of green flag action. Where today was, I would call it a disaster with the disrespect from everybody of just driving through each other and not just letting everything kind of work its way out,"  said Kyle Busch driver of the no. eight car for RCR. Busch finished third.
Final TV ratings came out for Sunday's running of the Busch Light Clash, NASCAR was able to garner 3.65 million viewers, which is down from last year's running of the race. Overall ratings fell approximately 15% from year to year.
Race weekend rumors were swirling whether or not the Coliseum race could be a points race next year. Auto Club Speedway is another track NASCAR has visited since 1997, located only 50 miles from Los Angeles. Two years ago, Auto Club announced a massive renovation which would take the track from its current two-mile layout all the way down to a half mile short track. With the pandemic happening and continuing supply chain issues, renovations have had to be pushed back numerous times.
"Unfortunately, in 2024, we will not be hosting a race, even with the most aggressive construction timelines. The timeline beyond 2024 has yet to be determined, as we are still tinkering with final layouts," said Dave Allen president of Auto Club Speedway.
NASCAR isn't looking forward to not hosting a race at Auto Club over the next presumably two years as that takes a major market away from them.
Drivers were asked whether or not making the Coliseum race a points race next year would be beneficial.
"No, no we cannot do that, do you think we can fit 40 cars out there. It would be dumb." – Joey Logano, defending Cup Champion and Busch Light Clash winner said post-race.
Leave a Comment
Your donation will support the student journalists of University of North Georgia. Your contribution will allow us to purchase equipment and cover our annual website hosting costs.
About the Contributor
Devin Kupka, Staff Writer
Hi I'm Devin Kupka. I'm a communications/multi-media/journalism major. Junior. Gainesville. My favorite part about journalism is all the different events...