Just Ducking Around
Just northeast of downtown Dahlonega along Morrison Moore Parkway lies the Yahoola Creek Reservoir and Lake Zwerner. 
On any given day, locals and tourists hike, fish, boat, and feed the numerous geese and ducks on the lake.  It is home to very unique colored ducks, Canadian geese, as well as two Chinese geese who all come running whenever food is brought.
Peyton Holley, a senior University of North Georgia student earning a Bachelors of fine arts in drawing and painting, has befriended the ducks at Lake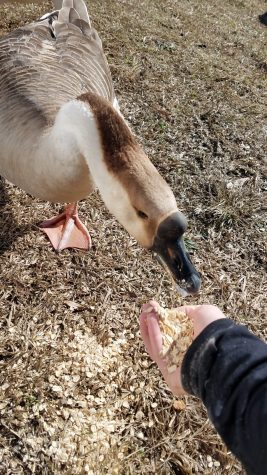 Zwerner. She frequently brings old fashioned oats to feed them, and the ducks now recognize and trust her.
She says that "a good handful of them are domestic," but she is not sure who drops them off at the lake. "They get abandoned, and whoever does it thinks they'll have better luck with wild ducks when in actuality it kills the wild duck population," Holley says.
She explains that one of the main reasons that abandoning domestic ducks harms the wild population is cross breeding. "When a domestic duck like a Pekin is bred with a wild duck like a Mallard it increases in weight and decreases in wingspan. In the end it can't fly, which is one of its main defenses as a prey animal," says Holley, who has done extensive research into ducks. Not being able to fly away from predators leads to a decline in the population.
Although abandoning ducks at the lake is detrimental to the wildlife, it is very hard to regulate according to the Department of Natural Resources. Enforcing laws regarding abandoning animals is "difficult to prove unless there are witnesses," says David Gregory, a wildlife biologist with the DNR.
Gregory assumes that the ducks were pets that were turned loose at the lake when the owners did not want them anymore. He says that it is illegal to abandon animals on private property, but it can sometimes be unclear who's property people abandon the animals on. Lake Zwerner is likely considered city property, he says, but given that it can take just seconds to abandon an animal, the laws are very hard to enforce.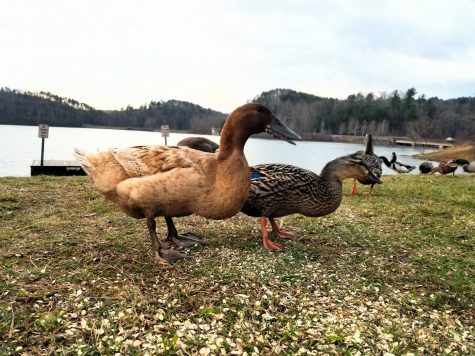 Many of the ducks do seem to adapt well after being abandoned. Gregory says that he couldn't guess how individual ducks fare, but the ducks "seem to survive with some degree of regularity." 
Wild or domestic, the ducks and geese at Lake Zwerner bring joy to locals and tourists alike. 
Leave a Comment
Your donation will support the student journalists of University of North Georgia. Your contribution will allow us to purchase equipment and cover our annual website hosting costs.
About the Contributor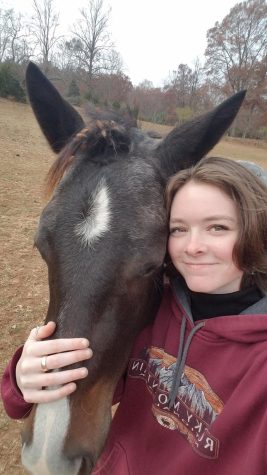 Mackenzie Anderson, Staff Writer
Hi! My  name is Mackenzie! I am a sophomore from the Dahlonega campus. I am getting my degree in Communications with a minor in Spanish. My favorite part...