Glass in Your Throat? Thanks, Starbucks.
Starbucks recalled 25,200 cases of bottled Vanilla Frappuccino. The Food and Drug Administration released information stating that glass shards may have been found in them.
With Starbucks' bottled Frappuccino being a popular drink around the U.S., consumers of this product are on edge as they may face injury. The FDA titled this recall a "Class II" and defines it as "a situation in which use of or exposure to a violative product may cause temporary or medically reversible adverse health consequences or where the probability of serious adverse health consequences is remote." The bottles affected have best-by dates in March, May, and June.
Starbucks' manufacturer, PepsiCo issued the following statement: "The North American Coffee Partnership is committed to a high level of quality in the products we serve. Delivering a quality experience to our consumers is our top priority and we always act with an abundance of caution whenever a potential concern is raised."
Christine Hidalgo, a consumer of this product, is worried that she has been affected. She said, "Coffee is something that a lot of people depend on to get through their day. It's shocking that one of my, and others, favorite coffee is being recalled over a matter like this."
On Aug. 15, 2022, PepsiCo recalled another one of Starbucks' products, the Vanilla Espresso Triple Shot. The FDA report that came out on Sept. 8, 2022, stated this is due to "possible contamination by foreign material," later found to be metal. This possibility affected 200, 12-pack cases of product distributed to retail stores in Arkansas, Arizona, Florida, Illinois, Indiana, Oklahoma, and Texas. No statement was released for this incident.
This recall has made several of them rethink their trust in Starbucks. Jane Collier, a Starbucks consumer, is a Frappuccino lover. She doesn't drink coffee often, but she said, "This has definitely made sure that I stay away from Starbucks drinks for the sake of my health."
"Even though I love the frappes made in-store, it's not worth it."- Jane Collier
Social media users have also begun to question the procedures that PepsiCo has in place.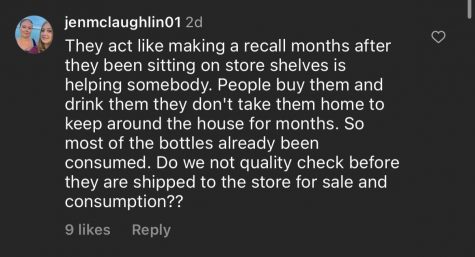 Injuries caused by this product have not been documented yet. However, those who have questions or concerns can contact PepsiCo Consumer Relations at 1-800-211-8307.
  Hello Hello Hello Hello Hello Hello Hello Hello Hello Hello Hello Hello Hello Hello Hello Hello Hello Hello Hello Hello Hello Hello Hello HellNo o Hello Hello Hello Hello Hello Hello Hello Hello Hello Hello 
Leave a Comment
Your donation will support the student journalists of University of North Georgia. Your contribution will allow us to purchase equipment and cover our annual website hosting costs.
About the Contributor
Trinity Cromwell, Staff Editor
Trinity is a Senior Staff Editor for the Vanguard. She is a Senior Communications major with a concentration in Multimedia Journalism. Celebrity drama...