NASCAR Takes to the Highbanks of Atlanta
In it's 75th year, NASCAR returned to the famed Atlanta Motor Speedway, the first of two trips this year to the track that was resurfaced during the 2021 off-season.
Qualifying activities were supposed to begin on March 17 with the Craftsman Truck Series and Xfinity Series, however, it got rained out and was cancelled.
On March 18, the temperatures dipped into the 30s and only warmed up to the lower 50s. It was the coldest Atlanta race weekend in a while and the coldest on the new surface. "Handling won't be as much of an issue as say the summer race, I don't believe that there will be as many tire failures. There will definitely be more green flag runs," Aric Almirola said on how the track surface could be affected.
Cup Series qualifying was held on March 18. The Fords came out on top, grabbing the top eight positions for qualifying. Joey Logano won the pole for March 19 Ambetter Health 400.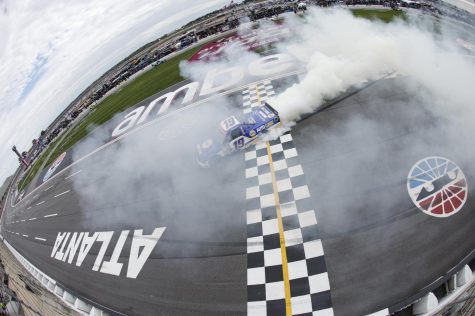 The first race of the weekend was the Craftsman Truck Series FR8 208. Last year Georgia native Corey Heim won the truck race, but on lap 85 would wreck out of the race this year. Heim was behind driver Nick Sanchez on the frontstretch, Sanchez failed to shift correctly causing Heim to plow right into the back of Sanchez's truck, ending Heim's day. Christian Eckes would end up winning the FR8 208.
"This is a good start to the season… there were numerous times last year where I was in contention to win… but then I would mess it up. But for today I cleaned things up… was able to get the win…" said Christian Eckes post-race.
The Raptor King of Tough 250 was the second race of the doubleheader on March 18. This race would set a record for an Xfinity Series race at Atlanta. The race had a record of 12 cautions for 68 laps and was under caution for 41.7 % of the race, with the average green flag run only being 7.9 laps. Georgia driver Austin Hill would take the checkered flag home for the Xfinity Series race.
"It wasn't easy, I felt like this race, raced way different than last year… I started to find things later in the race, and it was working really well blocking both lanes. Our car was really fast throughout the night, want to give thanks to RCR [Richard Childress Racing] and the whole team for helping me tonight." – Austin Hill post-race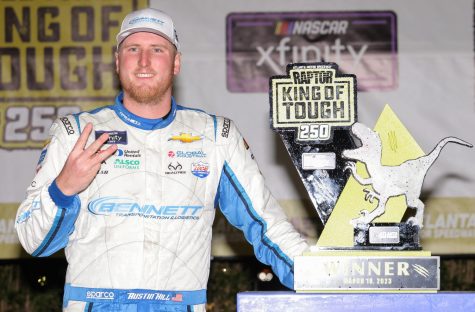 This was Hill's second consecutive win in the Xfinity Series at Atlanta Motor Speedway, also winning last summer in Atlanta. Hill has won three out of the seven Xfinity races this year.
This would be the first Cup race in Atlanta since 2005 that didn't have a driver from Georgia in the field. Chase Elliott is the only full-time cup driver from Georgia but a few weeks ago he fractured his tibia in in his left foot while snowboarding in Colorado. Josh Berry, from Tennessee, is racing for Elliott until he returns from injury.
Stage one of the cup race was won by Joey Logano. Stage two was taken by Logano's teammate Austin Cindric.
Polesitter Joey Logano would be the driver to end up in victory lane for the Ambetter Health 400. "…It's great to get a win for Ford early in the season… That's huge, you can go race aggressively… we know what tracks we need to maximize," Logano said. "This is definitely one of them and we were able to do that."
Logano is very familiar with Atlanta Motor Speedway. In the late 90's and early 2000's he raced on the bandolero track on Atlanta's frontstretch and use to live in the turn four condos as well.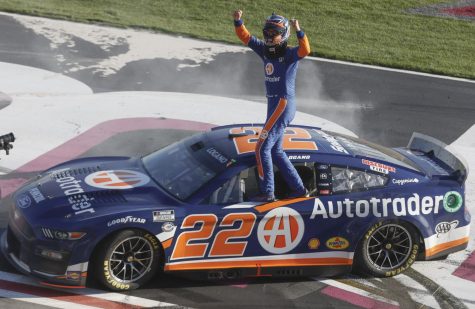 "There's so many memories of showing up here Wednesday nights practicing, Thursday nights we'd race… Our race shop was two miles up the road. I lived in the condo up there. The dream was always to race on the big track." – Joey Logano post-race
NASCAR will return to Atlanta on July 8 and 9, for the Quaker State 400 available at Walmart weekend.
Leave a Comment
Your donation will support the student journalists of University of North Georgia. Your contribution will allow us to purchase equipment and cover our annual website hosting costs.
About the Contributor
Devin Kupka, Staff Writer
Hi I'm Devin Kupka. I'm a communications/multi-media/journalism major. Junior. Gainesville. My favorite part about journalism is all the different events...