Social Media Reacts to Bud Light Supporting Transgender TikTok Star
At the beginning of April, Bud Light revealed that transgender TikTok star and activist Dylan Mulvaney would be a spokesperson of the company. This announcement came in the form of an Instagram video that Mulvaney made where she announced that Bud Light had sent her beer with her face on the cans.
In the video, Mulvaney announced that Bud Light sent her cans with her face on them to celebrate the conclusion of her "365 Days of Womanhood" series. The series documented her transitioning from a man to a woman.
The public was quick to give reactions upon the release of this video. Many conservatives openly called to boycott the company on social media. One of the more intense reactions comes from music superstar Kid Rock. In a video he posted online, Kid Rock is seen shooting cases of Bud Light with an automatic weapon. Warning: the video contains language that may be offensive.
Anheuser-Busch, the manufacturer of Budweiser and Bud Light, defended its action to work with Mulvaney in a statement to Fox News. They pointed out that they have worked with "hundreds of influencers" and that the can was a gift to Mulvaney's completion of her online series.
"Anheuser-Busch works with hundreds of influencers across our brands as one of many ways to authentically connect with audiences across various demographics and passion points. From time to time, we produce unique commemorative cans for fans and for brand influencers, like Dylan Mulvaney." – Anheuser-Busch spokesperson to Fox News
Alissa Gordon Heinerscheid, Vice President of Bud Light's marketing, said in an interview on March 30 that her job was to bring more inclusivity to the brand. The purpose of this campaign is to attract more young people to the brand and to get away from the "fratty" image.
"I had a really clear job to do when I took over Bud Light, and it was this brand is in decline. It's been in decline for a really long time. And if we do not attract young drinkers to come and drink this brand, there will be no future for Bud Light." – Alissa Gordon Heinerscheid, Vice President of Bud Light's marketing
Josh Soper, a University of North Georgia student and former employee at a Budweiser distributor, commented on the matter stating that he also plans on boycotting the beer.
"I've worked at a Budweiser distributor, so this is pretty upsetting to hear. I definitely plan on boycotting Bud Light and will find another beer to drink." – Josh Soper, UNG student  
However, not everyone is against the company's decision. There is plenty of pushback against the calls for a boycott, such as this Twitter user.
so much of the right lives entirely inside a cartoon universe of cultural signifiers. like, I know in her head "bud light" equals "no college" equals "straight homophobe," but how much brainpower does it require to figure out that many gay people probably also drink cheap beer pic.twitter.com/j2zMkzq0Kv

— Will Stancil (@whstancil) April 3, 2023
"Y'all are a bunch of haters", said Mulvaney in a tweet that was seemingly in response to the calls for boycotts online. Mulvaney's twitter is currently suspended.
Leave a Comment
Your donation will support the student journalists of University of North Georgia. Your contribution will allow us to purchase equipment and cover our annual website hosting costs.
About the Contributor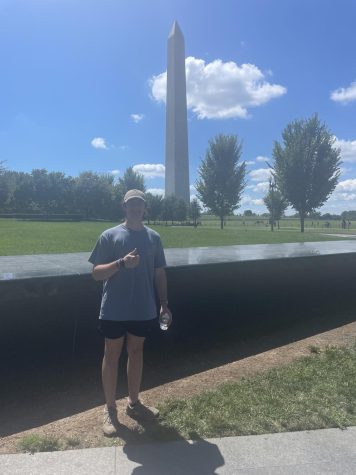 Walker Pearson, Staff Editor
Hey! My name is Walker Pearson. I am a senior majoring in History with a minor in Journalism. My favourite thing about Journalism is that I get to learn...