Nike Receives Backlash After Collaborating with Popular Tiktoker
Like Bud Light, Nike is also receiving backlash after their collaboration with activist and transgender influencer Dylan Mulvaney.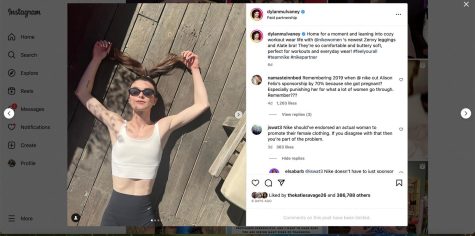 On April 6, Mulvaney shared a sponsored post with Nike to her Instagram account of 1.75 million followers. The post included multiple pictures and videos, where she promoted new Nike athletic clothing for women which are a pair of leggings and a sports bra. Mulvaney captioned the post, "Home for a moment and leaning into cozy workout wear life with @nikewomen 's newest Zenvy leggings and Alate bra! They're so comfortable and buttery soft, perfect for workouts and everyday wear!"
This collaboration sparked a lot of backlash from Nike's loyal customers, public figures and social media. One public figure that strongly reacted to the collaboration was former Olympian Caitlyn Jenner. The gold medalist tweeted, " As someone that grew up in awe of what Phil Knight did, it is a shame to see such an iconic American company go so woke! We can be inclusive but at the expense of the mass majority of people, and have some decency while being inclusive. This is an outrage."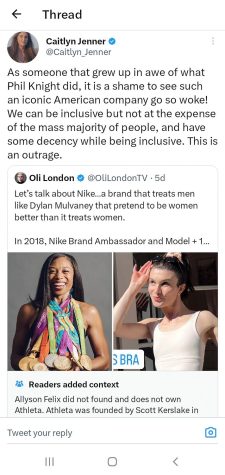 Another person that had commented on the situation is Twitter user Jean Hatchet. She tweeted, "The purpose of a sports bra is to enable women to do sport more comfortably in their female body. @Nike seems to think it is to enable men to insult women."
After going silent for a couple of days due to the backlash and people threatening to boycott them, Nike finally responded on April 7. The brand released a pinned statement in their comments section of their official Instagram account under their post promoting their new shoes Pegasus 40.
"You are an essential component to the success of your community! We welcome comments that contribute to a positive and constructive discussion: Be kind… Be inclusive… Encourage each other… Hate speech, bullying, or other behaviors that are not in the spirit of a diverse and inclusive community will be deleted." -Nike's Official Instagram 

Criticism didn't end there, a Tiktoker had decided to start a "burn your bra challenge." The user @chatterbox.mama expressed sadness over Nike decision for letting a transgender influencer represent their bra products. In the video, which is no longer available, she challenged other women to burn their Nike bras as well. She explained for women who didn't own Nike bras they could use other bras as a symbol and to show solidarity. Then she set two of her Nike sports bras on fire. Her account was later suspended after the video went viral.

However, there are people who have decided to continue on supporting the brand. One of these people being Ashley Lagunas, a Pre-Med Biology student at the University of North Georgia on the Gainesville campus.

Lagunas has been a loyal support for Nike since her childhood. She said she was glad that huge companies were finally having people that are part of the LGBTQ+ community involved with their collaborations.

She explained that the only criticism she has seen from this collaboration is transphobic comments towards Mulvaney which she finds completely un-fair. She said, "Honestly, I do feel like people are blowing this up because they feel like they can. I'm all for hearing everyone's opinion, but there is a certain point where that starts to cross the line."

This collaboration with Mulvaney hasn't swayed Lagunas away from supporting the brand.

"I will continue to support Nike even more after this collaboration. In fact, I ended up buying more shoes durning this time." -Ashley Lagunas, a UNG student. 
Leave a Comment
Your donation will support the student journalists of University of North Georgia. Your contribution will allow us to purchase equipment and cover our annual website hosting costs.
About the Contributor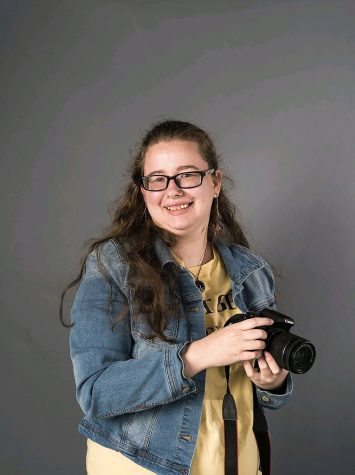 Rebecca Ansley, Staff Editor
My name is Rebecca Ansley, and I am located on the Gainesville campus. I am a junior majoring in Communications with concentration in Multimedia Journalism....