U.S. Education Department Announced a New Proposal to Title IX
On Thursday April 6, the U.S. Education Department came out with an announcement that there will be a new proposal to change Title IX, which prohibits sex-based discrimination in federally funded educational programs. This announcement came after the U.S. Supreme Court declined to intervene in West Virginia's battle over a law that bans transgender athletes from being involved in a female sports team at the school and the Kansas Legislature successfully over-riding the Democratic governor's veto to codify a ban on their own.  
The proposal will make it illegal for schools to broadly ban transgender students from sports teams that align with their gender identity than their assigned sex at birth. It will be applied to public elementary and high schools, colleges, universities and other institutions that receive federal funding.  
The department heard from reaching out to develop this rule for two years that there were many schools, students, parents, and coaches who face uncertainty about when and how transgender students can join in school sports due to some states deciding to adopt new laws and policies in athletics participation that targets transgender students. 
Since they were first issued, the Title IX regulations have made clear that different treatment based on sex is prohibited, recognizing that such treatment can cause harm by limiting educational opportunities because of sex-based stereotypes about individuals' talents, capacities and preferences. Congress indicated that the athletics context presents special considerations that the Title IX regulations should include reasonable provisions of governing athletics in light of the nature of particular sports. 
The department's regulations have thus long permitted schools to offer separate male and female teams in some circumstances while also requiring schools to provide equal opportunity based on sex in their overall athletic program. Schools can organize their athletic programs as long as they can provide equal athletic opportunity. 
Back in February, the department released resources for students, parents, coaches, and school environments where they could make sure their athletic programs were fulfilling Title IX's promise to women and girls. These resources help families assess whether women's and girls' teams receive equivalent level of coaching, facilities access, fields and equipment, and financial assistance as the men's and boys' teams. This proposal won't change the requirements that women and girls must be afforded equal athletic opportunity, and the rule affirms that schools can offer separate sports teams for boys, men, girls and women in certain circumstances.  
The regulation recognizes that there are differences among students and school sports teams for varied reasons depending on the students' grade or education level. Teams for younger students often focus on building teamwork, fitness, and basic skills for those who are just learning about the sport, while a collegiate team may be primarily focused on competitive success. The department expects that under the regulation elementary school students could participate on school sports teams consistent with their gender identity where considerations may be different for competitive high school and college teams.  
It will recognize that school athletic teams vary in the level of competition they offer. School teams vary across the United States with some that are extremely competitive, especially for high school and college students with advanced skills and others such as no-cut teams, which allows all students to join and participate in. There are some schools who also offer teams at the lower levels of competition such as intramural or junior varsity teams, which allows all or most interested students to participate. Sex-related eligibility criteria that restrict students from taking part in sports teams consistent with their gender identity would have to reflect these differences in competition.  
The department's proposed approach fits with Congress's direction in 1974 that the Title IX regulations include reasonable provisions that consider the nature of sports. Many sport governing bodies have created participation criteria for their sports, and the National Collegiate Athletic Association recently adopted a sport-specific approach for eligibility criteria for male and female teams in their college-level competitive teams.  
The suggestion will define the importances of minimizing harm to students whose participation on teams consistent with their gender identity will be implied or denied. Preventing students from joining a sports team which aligns with their gender identity can stigmatize and isolate them, and those students may not be able to participate at all if the only other option is to be on a team that doesn't align with their gender identity. This is different from the experience of a student who isn't selected for a team based on their skills. If a school could achieve its important educational objective by using sex-related criteria that would cause less harm, but the school chooses not to minimize the harm, it might not satisfy the proposed regulation depending on the specific facts involved.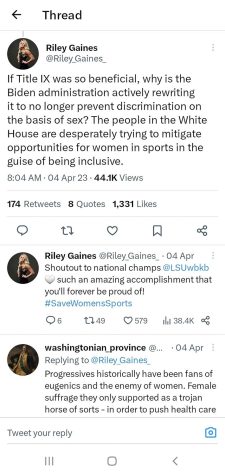 This new proposal to Title IX has created an uproar on social media. One of the most vocal people about being against this plan is former University of Kentucky NCAA champion swimmer Riley Gaines. Gaines competed against transgender athlete Lia Thomas in the 2022 NCAA women's national swimming championship and has been advocating against the inclusion of trans women in the women's division of sports. She tweeted out on April 4, "If Title IX was so beneficial, why is the Biden administration actively rewriting it to no longer prevent discrimination on the basis of sex? The people in the White House are desperately trying to mitigate opportunity for women's sports in the guise of being inclusive."
Gaines has been in the spotlight even more after giving a speech at San Francisco State University and being attacked by a mob of protesters on April 7. She tweeted out about the experience, "The prisoners are running the asylum at SFSU…I was ambushed and physically hit twice by a man. This is proof that women need sex-protected spaces. Still only further assures me I'm doing something right. When they want you silent, speak louder."              
 There has been criticism from the other side as well. The transgender community were filled with rage and disappointment after finding out that the proposal doesn't necessarily get rid of the ban against all transgender athletes. Erin Reed, who is for the proposal, tweeted out that they want their followers to submit a public comment to demand Biden to adjust the rule to protect athletes right to play at all levels.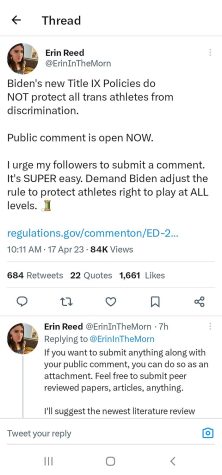 Avery Haddon, a UNG freshman majoring in Psychology with a concentration in Criminal Justice on the Gainesville campus, believes that the new proposal to Title IX will go through. Haddon said, "Changes within the education systems do typically take time to go into effect, especially when the title deals with less easily defined violations like sexual harassment."
"However, I appreciate that there are changes being made to discriminatory based titles like this one, and I firmly believe children should be protected from harassment and discrimination in schools no matter their personal identity."- Avery Haddon, a UNG freshman 
The proposed Title IX changes were published to the Federal Register on April 13.  Public comments will be open for 30 days and will close on May 15. 
Leave a Comment
Your donation will support the student journalists of University of North Georgia. Your contribution will allow us to purchase equipment and cover our annual website hosting costs.
About the Contributor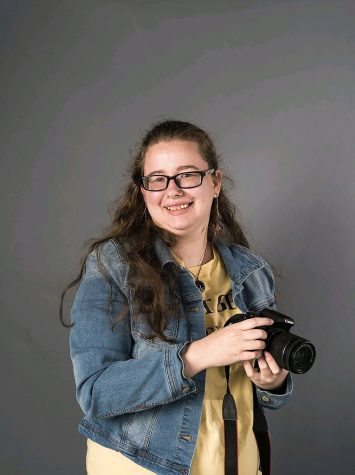 Rebecca Ansley, Staff Editor
My name is Rebecca Ansley, and I am located on the Gainesville campus. I am a junior majoring in Communications with concentration in Multimedia Journalism....