Finland Joins NATO
On April 4, Finland officially joined the North Atlantic Treaty Organization, bringing the total number of countries in the organization to 31. This raises concerns that there will be escalated tensions in the area.
"Finland became NATO's newest member today (4 April 2023), upon depositing its instrument of accession to the North Atlantic Treaty with the United States at NATO Headquarters in Brussels. NATO Allies signed Finland's Accession Protocol on 5 July 2022, after which all 30 national parliaments voted to ratify the country's membership." – Statement from NATO's website
Finland's joining ended a 75-year period of neutrality for the country. Before the war in Ukraine, Finland citizens were relatively unsupportive of joining NATO. However, after the Russian invasion, that mentality quickly changed with around 80% of the citizens supportive of joining NATO. This decision adds an 830-mile border that is shared between NATO and Russia. Part of this border comes within 100 miles of Severomorsk, Russia. Russia has 13 of its 23 nuclear-armed submarines in Severomorsk. Sweden is also in the process of trying to join NATO as well.
Davis Crenshaw, a senior majoring in International Affairs, has spent some time recently looking into Russia and its international relations. He believes that Finland joining NATO won't escalate tensions on its own accord. This is due to Russia not having any aspirations to gain territory in Finland. Putin decided to invade Ukraine due to a belief that Ukraine is a part of Russia. With Finland, there isn't that sentiment.
"There's no land dispute between Russia and the Nordic countries though. Putin isn't worried with those countries like he is with Ukraine… The only way it could be bad is if Stockholm [Sweden] and Helsinki [Finland] start building up their militaries and threaten Russia." – Davis Crenshaw, senior majoring in international affairs
At the same time, Crenshaw supports the idea that Finland listened to the public opinion of going ahead and joining NATO due to Russia's lack of concern regarding actions against neutral states. "The Russian invasion [into Ukraine] expedited the process of Finland. To the citizens of Finland, Russia didn't respect a state's neutrality," said Crenshaw.
In response to Finland joining, Russia stated that it would have to increase its military presence in the West, specifically the Northwest. Russia also mentioned that countermeasures may have to be taken because of this decision. Security seems to be the driving factor.
"We condemn the irresponsible course of the North Atlantic Alliance that is ruining the European architecture, or what's left of it… I have a great deal of doubt as to whether the upcoming period will be calm for our north European neighbors" – Sergei Ryabkov, Russian deputy foreign minister
Since joining NATO, Finland has begun erecting a 3-meter-tall fence along the border with Russia claiming that it is to curb illegal immigration. Some say this may lead to escalation as well.
Leave a Comment
Your donation will support the student journalists of University of North Georgia. Your contribution will allow us to purchase equipment and cover our annual website hosting costs.
About the Contributor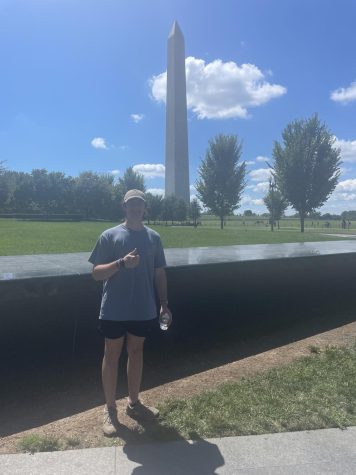 Walker Pearson, Staff Editor
Hey! My name is Walker Pearson. I am a senior majoring in History with a minor in Journalism. My favourite thing about Journalism is that I get to learn...