Georgia Music Spotlight: Left to Suffer
Left to Suffer, a metal band from Atlanta, performed at Center Stage in Atlanta on May 9 while on their biggest tour supporting Chelsea Grin and Carnifex.
Their latest album, "Feral," came out on May 12. This is their first full-length album since their debut album "A Year of Suffering," which came out in 2021. They have also released a live album, "Live from Hell" and an audiobook to accompany their 2021 EP, "On Death."
At their performance in Atlanta, they performed three songs from the recently released album "Feral," including "Artificial Anatomy," "Disappoint Me" and "Primitive Urge." They also performed the song "Loathe" from the album "A Year of Suffering," the song "Anger" from the EP "On Death" and their song "D.N.R." which was released as a single in 2021.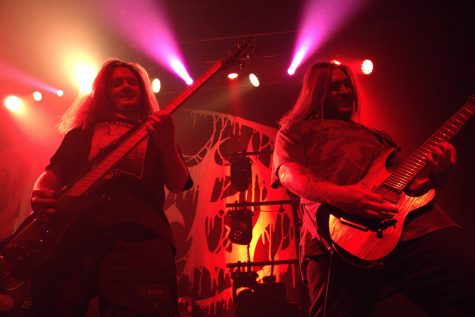 This was their first concert in Atlanta since November 6, 2022, when they were direct support for fellow Atlanta band Woe, Is Me.
"It's been nice to be back home in Atlanta for a day before going on to the second half of our adventure. It's good to come home and rest up in our beds," said Left to Suffer bassist Christian Nowatzki.
They recently finished a tour with Chelsea Grin, Carnifex and Ov Sulfur, which has been about a month-long tour across North America.
"Carnifex has been one of those bands that ever since we made the band, we've wanted to tour with them. So, the fact that we've toured with them twice now lets us know we're doing the right thing and it's really motivating to us. We came up listening to these bands so the fact that we're on the road with them, it's motivating to say the least," said Peter Higgs, guitarist in Left to Suffer. "Becoming friends with bands we listened to in high school, it's wild."
"It's really inspiring to see that it's almost on a more personal level this time too. The first time [touring with Carnifex] we were all on our Ps and Qs, standing up straight and trying not to step on anyone's toes or offend anybody in any way," said Left to Suffer guitarist Jacob "Spinch" Gordon. "Now we're all homies and joke and cut up and stuff like that and getting beers together."
"Sometimes I catch myself side stage watching these bands and I forget that I'm on tour. I'm in a trance and I feel like I'm a little kid again like 'I'm watching Chelsea Grin and Carnifex side stage,' then I'm like 'Oh shit, I'm on tour with them,'" said Taylor Barber, Left to Suffer vocalist. "Sometimes you get hit with that little serotonin appreciation of 'woah I'm actually doing this right now.' I think that's what it is for me, because we're also grinding every day, you kind of overlook the fact that what you're doing is insane."
Left to Suffer also spoke on what it's been like to go from small local concerts to playing on a bigger tour.
"One of the most heartwarming things that happens is when we're playing shows like this and you see the people that used to come to the shows, like seven of them, and they're in the big ass crowd with us, it's an extremely heartwarming thing," said Higgs.
"You feel like day ones still appreciate us even if you start getting a little bit bigger for the smaller rooms. I think it's a testament to how hard we work. I think it's sick that we get to experience things like this when just a short time ago we were playing small rooms," said Barber. "We played a small room like three days ago in Allentown [Pennsylvania] and it's a blast from the past playing small 100-cap rooms. I saw Lil Uzi Vert and Migos play [at Center Stage] and it's crazy that we're playing this stage.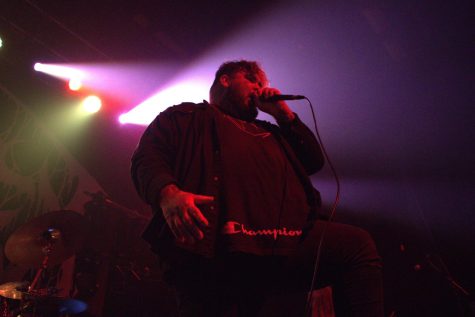 Vocalist Taylor Barber described their latest album, "Feral," as "Pure, unrelenting aggression." Guitarist Peter Higgs said that the album is "the most evolved Left to Suffer yet."
"It lets up a little bit in the last song on the record but for the most part it's pretty in your face. It's the best stuff we've even put out," said Barber.
"I feel like the production is a step up from our previous releases. Matt Thomas just killed the whole thing. He also helped write and bring out some parts of the songs," said Nowatzki. "I feel like when we were writing for this album, we were just in the zone."
Also speaking on Thomas, Spinch said he helped bring the songs together and made a big difference.
"It was cool working with someone that got us," said Spinch.
They also mentioned that the reception of the singles that were released for "Feral" have been received well by the fans. Barber said that it's surprising that fans learned the songs so quickly and were in the crowd yelling the lyrics back at them two days after a single was released.
For their songwriting process, they all write together.
Spinch said the writing process for "Feral" was different than how they usually write music. When they were writing "Feral," they wrote 11 or 12 songs, but ended up with eight on the fininshed album becasue of "trimming the fat and making it as dope as possible," said Spinch.
"Typically, maybe someone will have an idea and bring it to the table then we'll cohesively mess with something and it will be one song at a time every couple of days or weeks," said Spinch. "For this album, we actually spent a whole week at my house with the whole goal of let's write the most amount of bangers we can and take it to the studio…We'd wake up, make some breakfast, write a song, maybe one or two songs in a day and just vibe out in the house. Then really sit on them and get our own thoughts on them and try to make them as best as possible, then go to the studio and Thomas make them even fucking better."
Nowatzki mentioned that "Artificial Anatomy" and "Recluse" were written in 2020 and 2021 respectively but did not fit what they were doing at the time. He also mentioned that Thomas helped bring those songs to life for "Feral."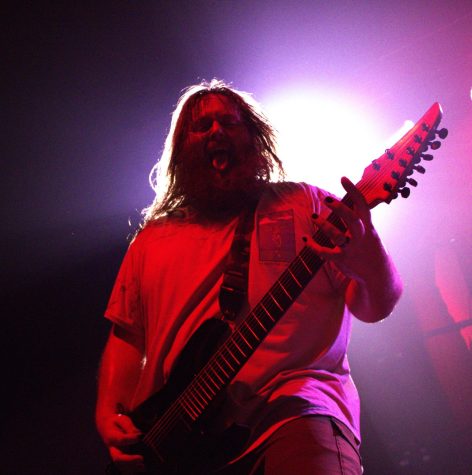 Another Georgia metal band that Left to Suffer wanted to spotlight is Backslide, with all members unanimously saying they wanted to.
"We took them on a run back in June last year for about four days and they are just such a great live band. The vibe with them is incredible," said Nowatzki.
Spinch said Backslide are,"Very talented guys with great music and just have a good energy about them and they're very fun people to be around."
After the tour with Chelsea Grin, Carnifex and Ov Sulfur, Left to Suffer is planning to head back to the studio, as well as go on another tour.
"Immediately after this tour, we're writing another album. We have a tour we're about to announce. It will be our first dual headliner across the United States with three sick-ass bands, I'm so fucking amped to announce it. We have a whole bunch of shit coming, more music, more tours. We're just pedal to the metal, that's all we're doing," said Barber.
"The possibilities feel endless, but I can definitely feel that there are a lot of great things for us in the future," said Nowatzki.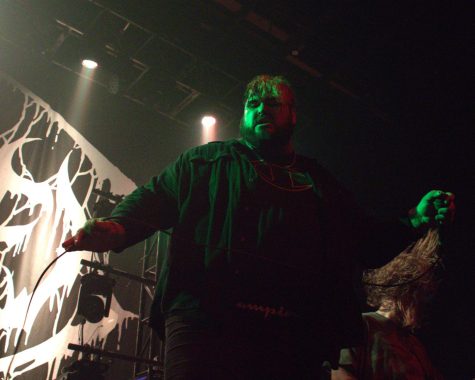 Left to Suffer is Taylor Barber (vocals), Peter Higgs (guitar), Jacob "Spinch" Gordon (guitar), Christian Nowatzki (bass) and Alex Vavra (drums).
Their music, including the latest release "Feral," can be streamed on Spotify, Apple Music, YouTube, and Bandcamp.
Left to Suffer can be found on Instagram (@lefttosuffer), Twitter (@LefttoSufferUS) and Facebook ("Left to Suffer").
Leave a Comment
Your donation will support the student journalists of University of North Georgia. Your contribution will allow us to purchase equipment and cover our annual website hosting costs.