Racing and Freedom, NASCAR'S Annual Trip to Charlotte on Memorial Day Weekend
Every year on Memorial Day weekend NASCAR visits the Charlotte Motor Speedway for its annual Coca-Cola 600.
The ARCA Series, Craftsman Truck Series, Xfinity Series, and Cup Series all returned for the weekend.
On-track action started last Friday with the ARCA Menards Series, Craftsman Truck Series, and Xfinity Series all holding practice and qualifying.
The ARCA pole sitter was Jesse Love. Going into the General Tire 250 at Charlotte, Love won both the previous two ARCA races, picking up wins at Talladega and Kansas.
The General Tire 150 had six cautions for 40 laps and had multiple leaders. Dean Thompson, Christian Rose, and Connor Moscak would all lead laps, but Jesse Love led the most with 67 laps and would take home the checkered flag.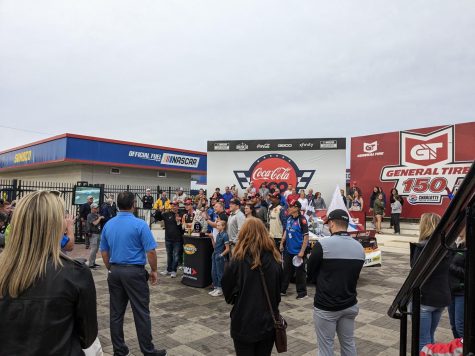 "We struggled here pretty bad last year… we went to work… we did a lot of sim work… made good adjustments … it was really cool to get [Venturini Motorsports] their first win here," said Jesse Love in his post-race.
Love winning Charlotte marks his third consecutive win in the ARCA Menards Series.
The Triple Truck Challenge is a program NASCAR does for truck drivers three races a year. This year it's Charlotte, World Wide Technology Raceway, and Nashville Superspeedway. If a driver wins a Truck race during The Trip they win a $50,000 bonus on top of race earnings. Winning two out of the three races, they'll be awarded a $150,000 bonus. And winning all three races apart of The Trip comes with a $500,000 payout.
Ben Rhodes spoke post-race about The Trip, "I think it helps the competitiveness with like parity through the field, like you look at the depth of the field, the depth of the field shows up really deep at the Triple Truck Challenge… it just gets so closely competitive… the competition level gets packed in more… and you feel that when the money is on the line."
Earlier in the day Tanner Gray won the Pole for the Truck race. Gray starting on the front row would lead the first three laps, but Georgia driver Corey Heim would take the lead for the next 32 laps and would win stage one. Carson Hocevar led most of stage two and took the green checkered flag winning the stage.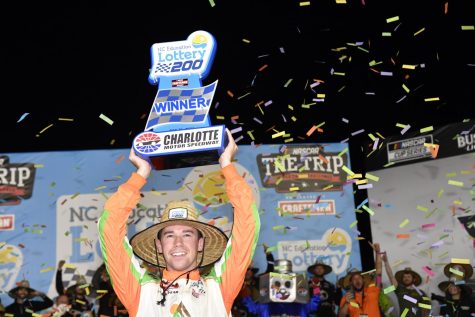 Hiem and Hocevar would trade the lead a few times in the final stage. Ben Rhodes would pass Carson Hocevar on the final restart and lead the last 24 laps to win the North Carolina Education Lottery 200.
"Anytime you get a win you don't know when the next one is going to come, you celebrate it as much as you can," said Hocevar post-race.
With rain forecasted days in advance of the weekend, NASCAR decided to move the NASCAR Xfinity Series Alsco Uniforms 300 up an hour early to start at noon on Saturday. While on-track activity was scheduled to continue Saturday, rain moved into the area and either postponed or canceled events. The Alsco Uniforms 300 got postponed to Monday at noon while Cup Series practice and qualifying got canceled.
With the Cup Series having no on-track time prior to the Coke 600, lineups were set up by NASCAR's metrics, meaning William Byron would sit on the pole.
On Sunday, Mother Nature prevailed for a second day in a row postponing the Coca-Cola 600 to Monday at 3 p.m. EST.
The Xfinity Series Alsco Uniforms were scheduled to start at 11 a.m. Monday. The race started but was stopped due to mist on lap 49. NASCAR decided to postpone the Xfinity race until after the conclusion of the Cup race on Monday. This is not the first time this season that an Xfinity Series race was run after a Cup race.
With the sun coming out at the track for the first time since Friday morning, and with track drying going smoothly, the Cup race was able to start on time.
The first 37 laps went green, the polesitter William Byron led the first 13 laps of the race before being overtaken by Denny Hamlin. Christopher Bell would take the lead on lap 33. At lap 37 NASCAR threw the competition caution. NASCAR normally throws competition cautions when there is no practice or qualifying leading up to a race.
On lap 76 Jimmie Johnson spun due to a rear tire blowing out, bringing the second caution of the race.
Byron would take the stage one win, after leading doe 42 laps.
Stage two would go green for 49 laps before mist hit the track. Eventually, the mist turned into moderate rain causing NASCAR to red-flag the race for 30 minutes.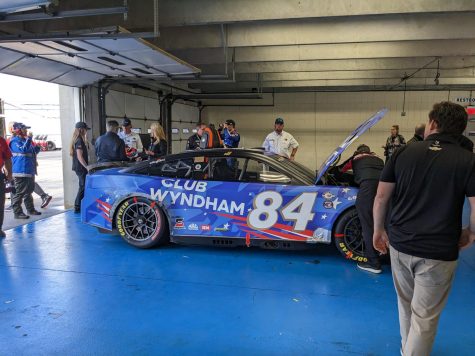 The race resumed on lap 164.
Johnson blew a right front tire on lap 165.
The third caution of stage two would come out at lap 176 when Kyle Busch spun coming off turn two.
Hamlin and Chase Elliott would collide into each other on the front stretch, ending their days on lap 186.
Hamlin wasn't too pleased with Elliott stating, "It's a tantrum, and he shouldn't be racing next week, right rear hooks are absolutely unacceptable."
Elliott pleaded his case after the wreck, "The 11 ran us up into the fence there, and once you tear the right sides off of these things it's kind of over."
Stage two would ultimately be won by Chris Buescher.
Stage three would only have two incidents, on lap 233 Bell spun exiting turn four, Brad Keslowski got loose coming off turn two collecting Todd Gilliland on lap 276.
Ryan Blaney would win stage three, thus being Blaney's first stage win of the season.
There were five cautions during the final stage, but one driver was consistent through most of it.
63 of the final 100 laps at Charlotte were led by Blaney, as he would take the checkered flag and win the 2023 Coke 600. Being the first points race Blaney has won in nearly two years.
Blaney in his post-race press conference talked about his winning drought.
"Sometimes you just get in these streaks of things just aren't going right, and then you feel like you're doing everything right, maybe your cars aren't fast enough to win races or you're making too many mistakes. It can definitely be frustrating. But at the end of the day, we all pulled together, and everyone in the 12 group did a good job of working on things that we could get better. Yeah, it does feel like an eternity"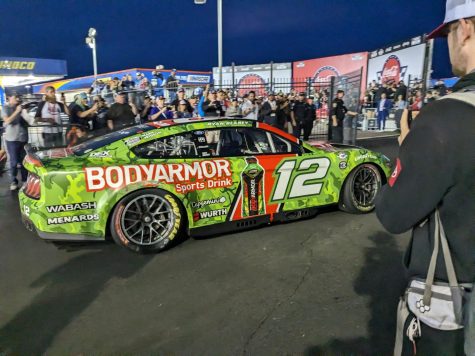 The last time Blaney won a points race was in 2021 where he won, Atlanta (spring), Michigan, and Daytona (summer). Although Blaney did win the NASCAR All-Star Race in 2022, that race doesn't count toward any points.
"Everyone deals with them a little differently. I'm not the most self-confident person out there to begin with. So when I do get in doubt of your abilities to do something, it's really hard to pull yourself out of it, at least for me personally, just because I don't have that self-confidence that some guys have. It takes me a little bit more convincing. Yeah, it's easy to get down, that's for sure. It's how you kind of dig yourself out of that stuff that kind of makes you. Yeah, the moments aren't good, but it's nice to be back." – Ryan Blaney, post race on dealing with self doubt
Earlier in the day the Xfinity Series was able to complete the first 49 laps of the race.
Polesitter Justin Allgaier led the first 21 laps of the race, then a caution came out due to mist. On pit-road, Allgaier lost positions pitting.
Ty Gibbs would end up winning stage one. At the conclusion of the first stage, mist started to fall, and picked up enough to the point where NASCAR had to postpone the Xfinity race until after the conclusion of the Cup race.
The red flag was lifted after nine hours and 18 minutes after it initially came out, and the race resumed at 9:58 p.m.
The second stage was green the whole way, with Gibbs taking stage two.
The last caution to come out for the race would be on lap 129, where Sam Mayer spun in turn two.
Fuel strategy would come into effect late into the race. "We started saving again and I think at some point they must have told him he was short [John Hunter Nemechek], like not going to make it short. And that's really when I think the race turned to turned a corner for us," said Allgaier.
Justin Allgaier had the winning fuel strategy and would end up in victory lane for the Alsco Uniforms 300.
"Obviously we we made it all the way to the end, so just just blessed to have our great race team behind me that and dots every I and cross every T and and you know we had all the right information and got to spend a little bit of time with the family today and then come back and go. To victory in the night, they got to be with me. It couldn't be sweeter" – Justin Allgair, on why this race win was so special to him
Leave a Comment
Your donation will support the student journalists of University of North Georgia. Your contribution will allow us to purchase equipment and cover our annual website hosting costs.
About the Contributor
Devin Kupka, Staff Writer
Hi I'm Devin Kupka. I'm a communications/multi-media/journalism major. Junior. Gainesville. My favorite part about journalism is all the different events...