Vegan and plant-based diets have rapidly gained popularity in recent years with many Americans adopting the lifestyle. This dietary choice involves abstaining from the consumption of animal products and focusing on plant-based foods. It is gaining favor on social media and across the internet with the spread of information and promotions from celebrities like Kim Kardashian and Billie Eilish. Athletes such as Venus and Serena Williams, Mike Tyson, and Cam Newton are also endorsing the diet and using their platforms to raise awareness of the health benefits and environmental impact.
One of the most significant benefits of a plant-based diet is the positive effect on overall health. Karla Guevara Vilorio, a Clinical Learning Student at the University of North Georgia on the Gainesville campus, says she chose to go vegan to support her daughter who was diagnosed with an allergy to dairy products. Vilorio changed her diet several years ago and has experienced the benefits firsthand, "your energy is better, your health is better. Even Emory University has started advocating the plant-based diet."
According to the National Institute of Health, the number of Americans following a vegan diet increased by 600% from 2014 to 2018. Plant-based foods are rich in essential nutrients, vitamins, and minerals, which can help reduce the risk of chronic diseases such as heart disease, diabetes, and certain types of cancers. A vegan diet is typically low in saturated fats and cholesterol, leading to improved cardiovascular health. These diets are also associated with a lower body mass index (BMI) and a reduced risk of obesity.
A plant-based diet can also have a positive change on the environment. If people change their diets by replacing animal products – that's meat, dairy, and egg products- with plant food alternatives people can lower the impact of global warming. According to The American Vegan Society,  animal agriculture is a major contributor to greenhouse gas emissions, deforestation, and water pollution. Changing dietary choices is the single most impactful way an individual can significantly reduce their carbon footprint and contribute to the preservation of our planet.
Plant-based diets require fewer resources, such as land and water, compared to animal agriculture, making it a more sustainable choice. Ethical considerations are another driving factor behind the adoption of a new diet. Many people are choosing this dietary lifestyle to avoid the exploitation and cruelty associated with the meat and dairy industry. Mariquita Solis, a Vegan Empowerment Coach who works for WeDIDit.Health, is apart of a company that promotes a whole food plant-based lifestyle to prevent and reverse diseases. She says she went vegan for ethical reasons, "For me, veganism is kindness for all living beings." By opting for plant-based alternatives, individuals can align their dietary choices with their values of compassion and respect for animals.
A plant-based meal plan poses certain challenges for people who chose this lifestyle. People adapting to it face challenges like making sure they are able to meet nutritional needs, accessing a variety of plant-based products, and knowing how to prepare well balanced meals. Solis says that she takes Vitamin B12 and D supplements, as all vegans and non-vegans should take. "All protein comes from plants. I feel good eating the plants directly instead of going through the middle man, in this case, the animal," she says. While plant-based sources can provide these nutrients, careful planning and awareness are necessary to ensure an adequate intake. "The decision to eat healthier doesn't have to be difficult and limiting," Solis encourages, "it can open the door to exploring a bigger variety of food options. These days there are many versions of comfort meals so there is no missing out."
"I watched the Netflix documentary What the Health and got scared of how bad meat is. I tried following a plant-based diet, but it was so expensive." -Dolly Cueva, local shopper at Publix in Buford.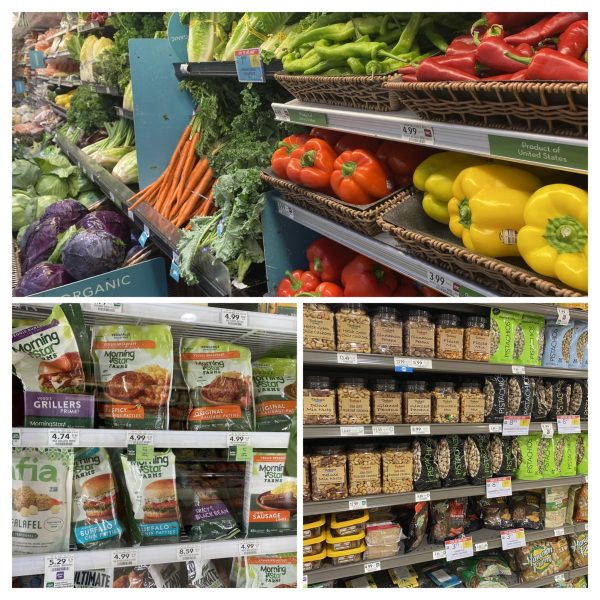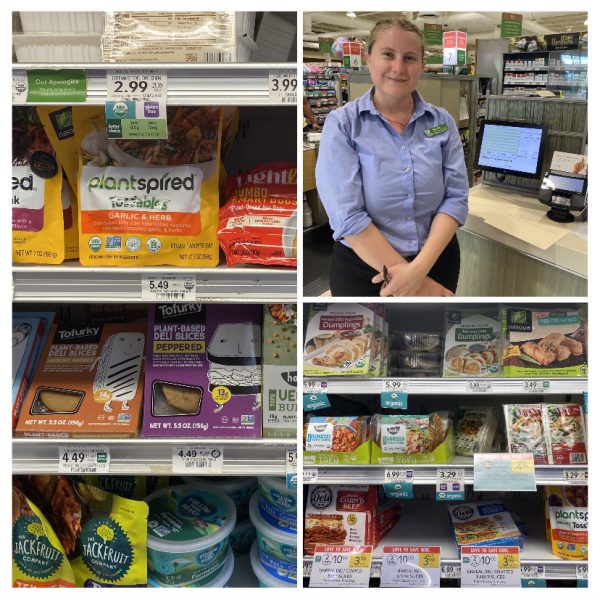 Vilorio challenges that when people neglect holistic health, people can create chronic issues. She suggests that changing to a plant-based diet today can lower your health care costs in the long term.
Catherine Harper is a student worker at UNG's food court on the Gainesville campus. When asked about the plant-based options on the menu, she says, "We offer many vegetarian and vegan options, as well as gluten-free buns. The Boar's Head menu has the veggie wrap with hummus, and a power blend of spinach, tomatoes, and any veggies you like. We also offer veggie burgers at the grill." As the demand for vegan products continues to rise, the availability and affordability of plant-based options are improving.
Dining out or attending social gatherings may require additional effort to find suitable food options which is anothert challenge that presents itself. Vilorio says she finds it easiest to prepare most of her meals at home and bring her lunch to school. "It can be challenging to navigate menus and communicate dietary restrictions effectively," she says, "I eat a lot of chia, hemp seeds, and legumes to be sure I am getting the proper nutrients. American diets are so high in fat and super high in protein. Many times, we do not need all of the calories we are consuming." With increasing awareness and the rise of vegan-friendly establishments, finding suitable options is becoming easier.
Nicole Hipps is the Assistant Customer Service Manager at Publix in Buford and has noticed requests for their local store to invest more in these products.
A plant-based diet offers numerous benefits for improved health outcomes, reduced environmental footprint, and ethical considerations that are some of the driving factors behind its popularity. By being mindful and well-informed, individuals can successfully navigate the challenges and reap the benefits of the plant-based and vegan lifestyle.
It is important to consider that a plant-based diet is not always nutritious. Any healthy diet is one that considers high-quality whole foods and the adequate intake of all vital nutrients. Consulting with a registered dietitian, nutritionist, or plant-based diet coach can help support a lifestyle transition and create a well-balanced meal plan that meets specific nutritional requirements.
Ava King with UNG Student Health Services advises students to reach out to UNG's registered dietician on staff to answer questions and provide information on healthy eating while on campus.