In Atlanta, Stop Cop City activists have rallied together, amassing an astounding 116,000 signatures. This far exceeds the required count in their determined effort to thwart the controversial construction of a $90 million police and fire urban pacification training facility known as "Cop City." This remarkable display of grassroots organizing not only spotlights the power of collective action but also raises pivotal questions about the tenets of democracy, community engagement and government accountability. 
Situated within a now bulldozed portion of the South River Forest in southeast Atlanta, "Cop City" stands as more than just a police training center; it embodies a potential blueprint for the transformation of urban landscapes into what critics have decried as 'police state training centers.' The activists taking to the streets are not solely questioning the fate of a $90 million, 85-acre complex; they are fundamentally challenging the very essence of our American cities and communities. 
At its core, "Cop City" is to be a fortified training facility, replete with mock cityscapes and emergency response simulations, designed to equip law enforcement for a spectrum of scenarios. While proponents argue the necessity of such facilities for effective training, critics perceive them as emblematic of the unsettling trend of police militarization and an infringement on civil liberties. 
The petition drive, galvanized by hundreds of canvassers who traversed Atlanta over the past three months, secured signatures from residents who ardently believe they should possess a say in shaping their city. Surpassing 116,000 signatures, these petitions nearly doubled from the 58,203 required for the referendum, equivalent to 15% of registered voters from the last city election.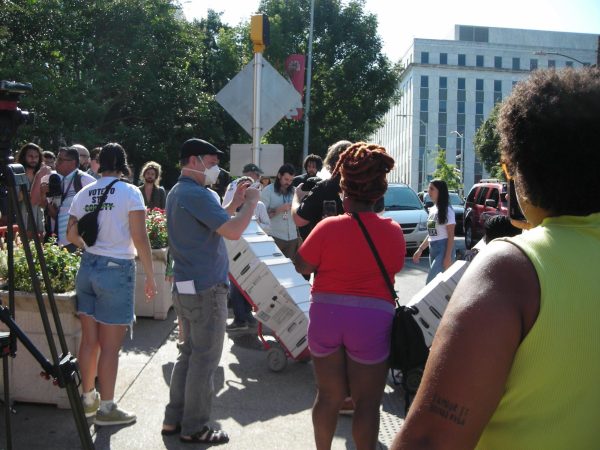 "Today, we transition from 'Let the people decide' to 'The people have decided,'" exclaimed Britney Whaley of the Working Families Party during a press conference outside City Hall.
Yet, the path to a democratic verdict took an unexpected turn, as Atlanta officials invoked a recent court order to withhold signature verification. This decision has further fueled activists' outrage, alleging that city officials prioritize corporate interests over the community's voice.
Fulton County officials, in a unique position to empower residents and uphold democratic principles of choice, took an alternative route. They opted to proceed with constructing what vocal critics have termed an "urban pacification center," sidelining the community's authentic choice and agency. This decision didn't arise in isolation but received significant backing from influential Atlanta-based corporations. In essence, corporate interests held sway, determining what should occupy residents' own backyards.
The ramifications of this choice extend well beyond "Cop City." It poses a pressing question for not only Atlanta but communities nationwide: Are we teetering on the verge of a future where communities forfeit their voice and agency, sacrificing tranquil gardens and trees for the looming presence of law enforcement?
To compound the controversy, a recent indictment under the Racketeer Influenced and Corrupt Organizations (RICO) law has targeted 61 protesters, fueling concerns about First Amendment rights infringement. Critics argue that this legal action seeks to suppress political beliefs and stifle dissent.
The situation in Atlanta prompts a fundamental question for all Americans: Is local government genuinely working in the people's interests, or does it pursue its agenda at the expense of every individual, including the 116,000 people constituting the very communities the police and government purport to protect?
As the legal battle over the referendum unfolds, the people's resolve to shape the destiny of "Cop City" remains steadfast and unwavering. Nonetheless, they continue to encounter hurdles from the very government institutions entrusted to safeguard their interests. The impending question still continues to persist: Will the voice of each of the 116,000 signatories be heard, or will they face continued resistance from the institutions meant to represent their interests?