Just 31% – that's the percentage of leadership roles held by women globally, a report from the World Economic Forum says.
But what would a world run by women look like? And what would it feel like?
That's what artist Jessica Wohl seeks to answer with her new art exhibit, "Imagining Matriarchy."
Blending fabrics like shirts, aprons, and bed sheets into decorative quilts, Wohl's work spreads feminine energy and offers a gateway to a world where women are the ones in power.
Students and faculty can visit the Roy C. Moore Art Gallery on the University of North Georgia's Gainesville campus from now until Sept. 22 for a free look into this alternate reality.
The quilts are designed abstractly, but guests may find meaning in Wohl's hand-woven patterns. She uses rich colors to convey messages about gender identity, while flowery pieces like A Woman's World can feel like stepping into a forest or far-off landscape.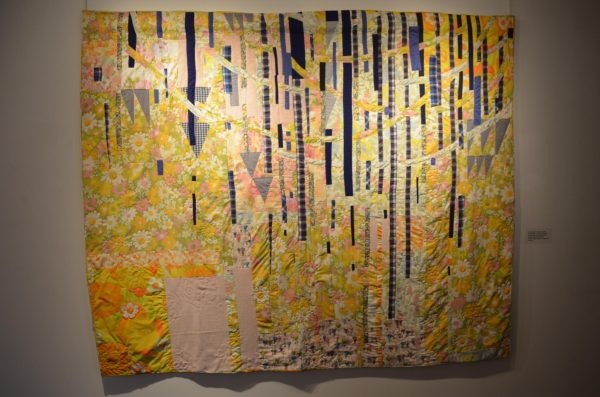 "I intentionally use a lot of pinks and blues for their cultural and stereotypical associations with gender," Wohl said. "But I use them in such a way where they depend on each other… they may even be tangled up in more complicated arrangements to imply that gender is not so simple and binary."
Six different quilts line the walls of the gallery – some of which took Wohl over a year to complete. She works out the composition as she goes, selecting specific threads based on color and working the surface much like a painter with acrylics on a canvas.
It's a lengthy process, but Wohl had a strong motivation for the exhibit. The idea was born from a cocktail of emotions stirred up by the 2020 election, a second pregnancy and a lack of female leadership present in her personal life. She recalls feeling incredibly numb when Elizabeth Warren ended her campaign in March of 2020.
"The disappointment was more than I expected it to be," Wohl said. "I was just absolutely deflated by the realization that the status quo would continue."
Still, the artist remained optimistic. She recalls reading Rebecca Solnit's book Hope in the Dark and feeling uplifted by its suggestion that change is always closer than we think. That, and the birth of her second child, inspired her to press on.

"
The hope, that desire, and the realization that maybe more people were imagining female leadership than a handful of us, was the inspiration for the show.
— Jessica Wohl
Wohl herself will provide a walkthrough and attend a lunchtime reception on the final day of the exhibit from noon to 1:30 p.m.
Those interested in the artist's working process or the stories behind individual pieces should attend. UNG Director of Art Galleries Victoria Cooke mentions she chooses artists based on what faculty and students might learn from them.
"Her work can be examined for technique, of course. But it also can be examined for techniques in 2D design," Cooke said. "Her work is also interesting in terms of content and how she uses materials to explore her ideas."
"Imagining Matriarchy" is one of three galleries included in this year's fall art exhibition and is exclusive to the Gainesville campus.
Douglas Bosley's "Auxon" exhibit is showing on the Dahlonega campus until Sept. 20 at the Bob Owens Art Gallery; the Oconee Campus is hosting the "Woodland Views" exhibit in their faculty center lobby until Oct. 12.