Artificial Intelligence has played a role in the digitalization of society, allowing us to collect, process and analyze large amounts of data than ever before. AI has created new technologies, improved business processes and greater efficiency in many industries. 
However, it also raises concerns about the potential misuse or abuse, dishonesty and lack of human interaction in our work.
A March survey conducted by BestColleges found that roughly a third of students report using AI tools, such as ChatGPT, on schoolwork. As AI continues to be an option for students wanting to speed-run their homework, what can colleges do to ensure academic integrity?
University of North Georgia Assistant Dean of Students from the Office of Student Conduct and Integrity at the Dahlonega campus, Richelle Keilholz, feels strongly about the use of AI in classrooms.
"The purpose of higher education is to produce independent, creative thinkers… The use of AI to create assignments and generate content goes completely against that purpose." – Richelle Keilholz, Ed.D. Assistant Dean of Students, Student Conduct & Integrity
Keilholz emphasized that these programs violate the UNG Code of Student Conduct. She said while technology can prove beneficial in the classroom, students should ask themselves what they are gaining and losing when using an outside technological source for schoolwork.
According to Keilholz, there are two important things for students to consider when thinking about utilizing AI:
Talk to your local faculty about what you can and cannot use for class.

Reflect on what you are "NOT learning" when utilizing these tools.
Keilholz clarifies that all of this is her professional opinion, not the school's official stance, and directs students to the following email from the Office of Student Affairs: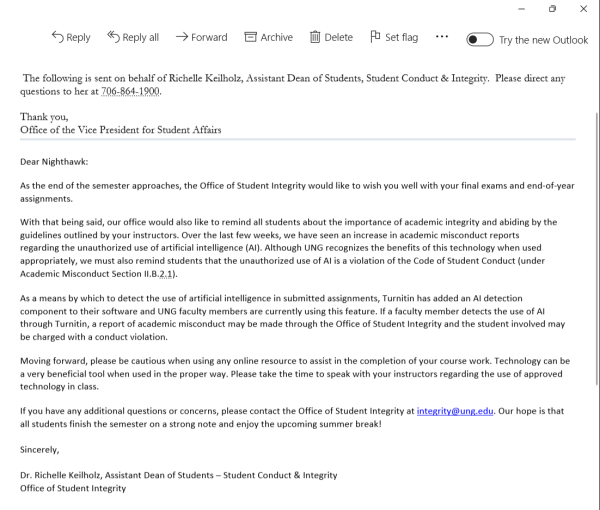 But what should students expect from their professors regarding AI?
Johanna Luthman, a history professor at UNG Gainesville, said she has a small familiarity with AI programs such as ChatGPT. She previews what sort of essays it can produce when provided with prompts she may use for class. She is also aware that it can be very helpful for menial, tedious tasks, which it can often accomplish in a fraction of the time it would take a human to complete.
While Luthman says that programs such as Turnitin and her common sense can generally catch AI papers, it is concerning that ChatGPT can produce articles that she would normally grade as high as a B.
Luthman's AI portion on her syllabi prevents "any use of ChatGPT or equivalent AI software, AS WELL as Grammarly, Wordtune, or any other AI-assisted writing programs." She said that programs such as Grammarly, while not the most egregious use of AI for class work, often can be flagged as 100% AI-produced, and students should refrain from using it in their classes.
A New York Times article published in June posits that AI can help annotate and highlight long research papers, make flashcards for class, and even generate practice quizzes when you put in a study guide from class.
Luthman says that while AI could be used in a perfectly harmless way to organize study materials, it cannot teach the basics of what is critical. "If you don't know how to put together an argument or analyze information, AI could be problematic," she said.