The United Auto Workers (UAW) strike is gaining momentum.  The union is flexing its organizing muscles in a fight for better working conditions, wages and benefits across the automotive industry.  Three weeks into UAW's historic work stoppage, the resolve of striking workers and the complex dynamics of this labor movement are coming to light.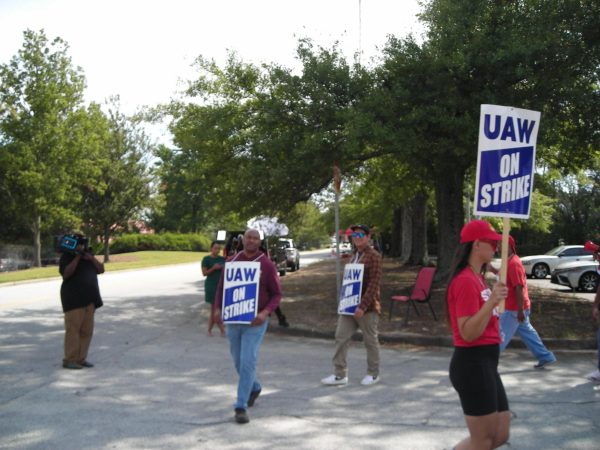 The UAW strike began after the union's contract with General Motors, Stellantis and Ford expired at midnight on September 14. Initially, 13,000 workers at three assembly plants walked out, sending a clear signal of their dissatisfaction. The union leaders warned of more extensive strikes if significant progress in contract negotiations was not achieved.
As negotiations continued, both sides reported no major breakthroughs. On Friday, September 22, the UAW decided to escalate the strike, announcing a walkout at 38 additional General Motors and Stellantis parts distribution centers, drawing another 5,600 workers into the fold. Currently, around 13% of the UAW's 146,000 members are on the picket lines.
The UAW is seeking substantial raises, better benefits, an end to wage disparities among factory jobs, a shorter workweek with full pay and a return to traditional defined-benefit pensions for new hires. They also want to reinstate cost-of-living pay raises and represent workers at 10 electric vehicle battery factories, ensuring they receive top UAW wages.
Years of concessions (2008-2010 Automotive Industry Crisis) and the disparity in compensation between long-term workers and those hired after 2007 are driving these demands. Despite record profits and substantial CEO compensation packages and bonuses worth over $407 million collectively, the union argues that automakers can afford to fairly reward their employees and are asking for what they were promised when they accepted years of concessions, fair compensation and job security for all workers.
The rectification of concessions made during the Automotive Industry Crisis has resulted in a substantial 19% real wage decrease for its members since 2008. The union is unwavering in its resolve to eliminate the tiered wage system, which pays newer employees significantly less for the same work as their more experienced counterparts. Furthermore, the UAW is advocating for the reinstatement of traditional defined-benefit pensions and company-paid health benefits for retirees, alongside the right to strike to prevent plant closures.
These demands also encompass increased paid time off, the conversion of temporary positions into permanent ones and the implementation of a 32-hour work week without any reduction in pay. While these demands predominantly address immediate compensation and benefits, they underscore the UAW's commitment to ensuring that autoworkers have secure and prosperous employment opportunities, particularly as the automotive industry undergoes a significant shift towards electric vehicles.
"I can't even afford to buy the cars we make," 27-year veteran plant worker Kevin Presley said, "(From) 2009 to 2015 we didn't get raises as part of the concessions and here we are today, almost ten years later, fighting to take our loss back."
However, negotiations have hit roadblocks in other areas. The companies have rejected proposals for cost-of-living increases, profit sharing and job security. They contend that a lavish UAW contract would lead to higher vehicle prices, potentially undermining their competitiveness against foreign automakers in the U.S. market.
The strike could have far-reaching economic consequences. The auto industry accounts for approximately 3% of the U.S. GDP, with Detroit automakers representing a significant share of the domestic car market. The longer the strike persists, the more economic damage it could cause, particularly in the Midwest where most auto plants are concentrated.
In the political arena, President Joe Biden visited the UAW strike this past Tuesday, Sept 26th, historically being the first modern president to visit a union picket line and pledging his support for unions.  On the other hand, former President Donald Trump is trying to capitalize on the strike. Trump's choice to visit a non-union auto parts store in Michigan raises questions about his support for unions and workers.
It remains uncertain which side holds the upper hand. Both the companies and the UAW have resources to withstand a prolonged strike. The UAW's targeted strikes are a strategic move to stretch their strike fund, especially if the standoff continues into the winter, but labor movements across various industries have recently achieved significant victories.
"It's not just one union's struggle: it's the entire working class. One fight against corporate greed, and the only way to fight back against that is solidarity with all workers."- Jess Lester
Jess Lester, a UPS teamster from local 728, stood shoulder-to-shoulder with the striking UAW workers, embodying the essence of solidarity. Jess's unwavering support and belief in the collective strength of workers underscored the significance of unity in the ongoing battle for fair working conditions and compensation. Her presence served as a powerful reminder that in the face of adversity, the bonds of solidarity among workers can be the most potent force for change.
*UAW President Shawn Fain announced that the union will expand its strike again against General Motors and Ford at GM's Lansing Delta Township Assembly and Ford's Chicago Assembly.   An additional 7,000 UAW members at these two plants will join the strike at Noon Eastern Time, September 29. This brings the total number of Big Three strikers to 25,000 members at 43 facilities in 21 states.