Many people know of at least one thing in their life that needs to be changed. However, they may not know how to put that change into words or actions.
The same happens when people think about changes they want to see on Gainesville's University of North Georgia campus, especially when they are put on the spot. Seeing the change is easy, but the hard part is putting the change in words.
Even still, Darcy Hayes, the UNG Gainesville Interim Associate Vice President and Dean of Students said at a recent Student Government Association meeting that her number one priority as Dean is finding out what changes students want to make on campus.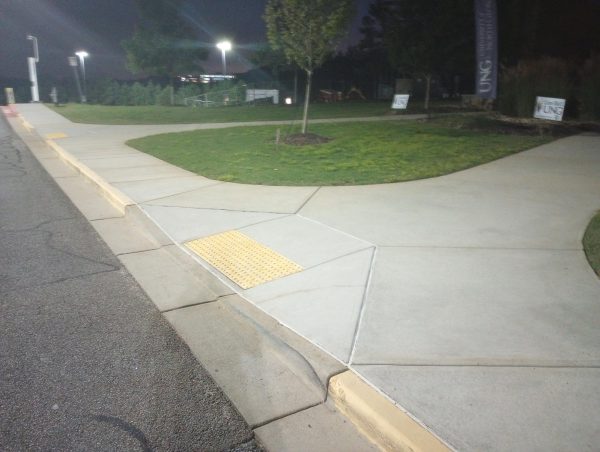 One idea, suggested by Mallory Mulhern, a junior at UNG, was to update the disability areas at Gainesville, like the Cumming campus. Right now, she sees the areas as less than adequate.
"From what I have seen, Cumming has a lot better disability-type areas. For example, the button to open the door is out in front of the doors instead of being on the door frames. Also, the wheelchair-accessible ramps are not as prevalent as on Cumming's campus."
She mentions that this change will help people with disabilities move around easily since ramps and buttons are more accessible.
Another idea, this one suggested by Steven Gresham, a sophomore at UNG, was to have a rock-climbing wall or a boulder. For him, it is all about the ease of access to one.
"The only campus with a rock-climbing wall is the Dahlonega campus which I do go to a couple times a week, but if we had one here, it would be a lot better because a lot of people would use it."
Hayes was quite interested in both of these ideas, but she loved Mulhern's idea.
"I can see how the buttons can be a bit of an issue. Because they are made to fit on the door frames, many of them are quite small. Knowing this, it may be hard to see them from afar, forcing people to do more searching for them than I would like." – Darcy Hayes, Interim Dean of Students at UNG Gainesville
She also mentioned that many of the buttons seem to be outdated or seem to be going unused seeing as there are copious amounts of cobwebs on them.
If not for the issue of where to put Gresham's  rock-climbing wall, Hayes seemed intrigued by it.
"The only issue is where to put it. The gym ceiling is too small to house a full-scale rock-climbing wall like what Dahlonega has. If you put it outside, it becomes susceptible to nature and the elements, causing it to wear quicker."
An idea pitched by Leslie Rico, a sophomore at UNG, was to have a music festival like the film festival. Hayes liked this idea as she too enjoys music but recommended that this idea be pitched to the Nighthawks Entertainment Club.
Overall, Hayes enjoyed hearing about all of what students had to say and mentioned that if anyone had anything that they wanted to see, she would be happy to hear about it.
If students on the Gainesville or the Cumming campus have any further ideas, email Darcy Hayes at [email protected].
If students on Oconee, Blue Ridge and Dahlonega campuses have any ideas, send them to [email protected].