On Tuesday, Sept. 12, Pantera came to Alpharetta, Georgia on their first North American tour since 2001. Pantera was joined at Ameris Bank Amphitheatre by opening acts Lamb of God and King Parrot.
Texas natives, Pantera, who rose to fame in the 1990s with their first four albums reaching platinum status with the Recording Industry Association of America. Their last full-length album, "Reinventing the Steel," which was released in 2000, reached gold status with the RIAA.
Pantera opened their set by playing "A New Level" and "Mouth for War," which are on their 1992 album, "Vulgar Display of Power." From the same album, they also played "Fucking Hostile" and "Walk," which vocalist Philip H. Anselmo called "gateway songs into Pantera."
During "Walk," Pantera was joined on stage by Lamb of God vocalist Randy Blythe, Brent Hinds of Atlanta-based band, Mastodon and members of King Parrot.
Toward the end of Pantera's set, they played the intro to "Cemetery Gates" while a tribute video to "Dimebag" Darrell Abbott and Vinnie Paul Abbott, brothers and co-founding members of Pantera who have passed away, played on the video boards. While the tribute video continued, Pantera played their cover of "Planet Caravan," which was originally done by Black Sabbath.
Pantera closed the show with the song "Cowboys From Hell," followed by an encore of "Slaughtered" and "Yesterday Don't Mean Shit."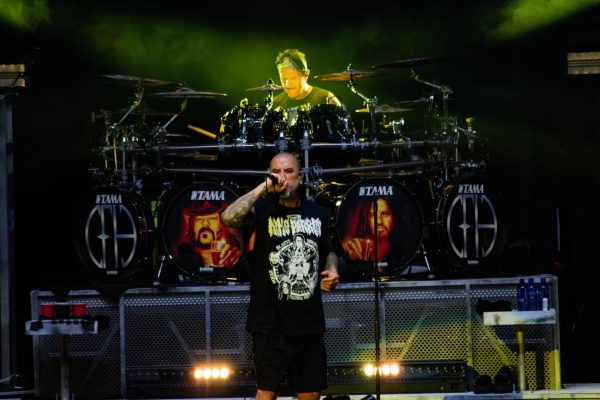 Bennett Van Orden, junior graphic design major and Japanese minor, said despite not being the biggest Pantera fan, he knew this concert was a one-time experience.
"It's hard to say, as I'm not the biggest Pantera fan. I was only two when 'Dimebag' [Darrell Abbott] was shot, and I got into the metal scene right around when Vinnie Paul [Abbott] passed. I knew of them, but I never felt their cultural impact," said Van Orden. "I went primarily because I thought this was a one-time tour…that I would never get the chance to see again. That said, you can tell the impact they've had. I saw grown adults, probably 40 to 50-years-old, moshing like they were teens again. You can immediately tell that even after 22 years, their legacy is still strong."
Van Orden described the atmosphere of the concert as "reminiscent."
"There wasn't a crazy big pit, and so many older vets were there who had seen them previously. It actually felt like a reunion honoring the legacy of the brothers," said Van Orden. "To me, it didn't seem like a cash grab. If they milk it with another tour, I'd call it that. But it really felt like it was for the fans, the brothers, and the legacy."
"Cowboys From Hell" and "Walk" were songs that Van Orden enjoyed hearing Pantera play live.
"'Cowboys From Hell' is iconic. When that opening came on, everyone went nuts. 'Walk' was equally good. I love Phil [Anselmo's] quote: "sing with your fist," or something along those lines," said Van Orden.
Van Orden's favorite moment from the concert was being in the pit.
"It's probably just me, but I love getting knocked down in the pit. Everyone there was so kind- they grabbed me immediately threw me right back in. Felt like one big extremely aggressive family," said Van Orden.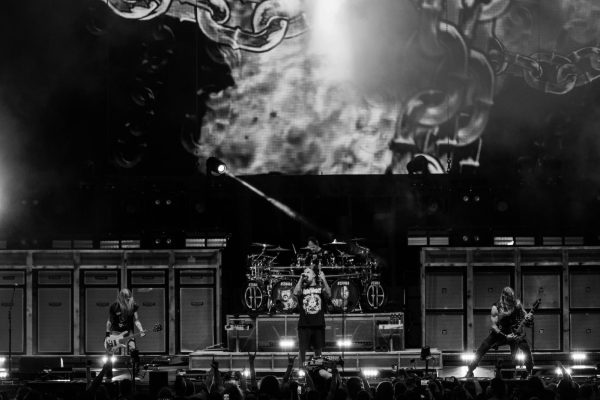 Pantera's 2023 North American tour dubbed "For the fans. For the brothers. For legacy" to honor the two original members of Pantera who have passed away.
Original guitarist and co-founder of Pantera, "Dimebag" Darrell Abbott, was tragically killed on December 8, 2004, when a fan rushed the stage and shot Abbott. Abbott was not performing with Pantera, but with his side project Damageplan. He created Damageplan along side his brother and drummer, Vinnie Paul Abbott, who is also co-founder of Pantera. Vinnie Paul Abbott passed away on June 22, 2018, from an enlarged heart and severe coronary artery disease, according to the Clark County Coroner in Las Vegas.
In the place of guitarist "Dimebag" Darrell Abbott and drummer Vinnie Paul Abbott was Zakk Wylde from the band Black Label Society and Charlie Benante from Anthrax, respectively.
Pantera's last concert in Georgia was on March 30, 2001 at the Tabernacle in Atlanta.
Pantera has two shows scheduled for the remainder of 2023, where they will be supporting Metallica in St. Louis and Detroit. They will continue to open for Metallica with five concerts scheduled for August 2024.
The opening bands were Lamb of God and King Parrot. Lamb of God is from Richmond, Virginia and are touring to support the release of their 2022 album, "Omens." King Parrot is a grindcore band from Australia and are signed to Housecore Records, the record label owned by Pantera vocalist Philip H. Anselmo.
To learn more about Pantera's history, discography and to find upcoming tour dates, visit their website.
PHOTOS
Pantera (Photos by Cannon Crompton)
Lamb of God (Photos by Cannon Crompton)
King Parrot (Photos by Cannon Crompton