After 53 North American shows and a projected profit of $2.2 billion, according to a CNN Business source, The Eras Tour is on track to be the biggest tour of all time. Fans will have the opportunity to revisit the cultural phenomenon when "Taylor Swift: The Eras Tour" hits theaters on Oct. 12. 
On her social media accounts, Swift said The Eras Tour has been the most meaningful, electric experience of her life and she is overjoyed that it will be coming to the big screen. 
According to AMC Entertainment Holdings Inc., the film has already surpassed $100 million in pre-sale tickets. The film has set the single-day ticket sales record for AMC Theatres, racking in $26 million dollars in North American sales, surpassing the previous record held by "Spider-Man: No Way Home." It is on pace to have the biggest opening weekend for a film this year. 
Fans have noticed small details in the film's rollout of ticket sales. AMC's price for a standard ticket is $19.89, a subtle reference to Swift's fifth studio album, "1989," which also happens to be re-releasing on Oct. 27 as "Taylor's Version." AMC is also charging seniors and children $13.13 per ticket, a nod to her lucky number. 
Anna Grace Worley, MBA graduate student, attended The Eras Tour in Atlanta earlier this year. She said she is excited to watch the movie and relive the experience. 
"When I saw the concert in person I kind of blacked out because of my adrenaline, so I only remember bits and pieces," Worley said. "I hope there are some backstage scenes. I love to watch her process."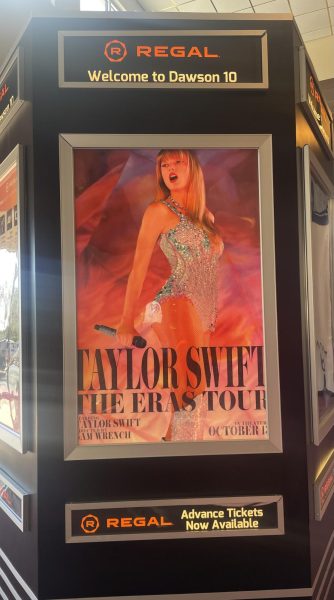 Sydney Bolyard, senior kinesiology major, said that it is smart for Swift to release the film for fans and people that did not get to go to the concert. 
"I wanted to see it in person so badly," she said. "I think watching it in theaters or even just with friends at home and getting to enjoy it that way will be cool." 
Bolyard said that she is excited for the film because she loved the "Miss Americana" documentary about Taylor Swift. 
"[The documentary] showed a super cool behind the scenes aspect of her tour and life and I'm hoping 'The Eras Tour' does the same," she said.