A partial solar eclipse was visible to students and visitors at the University of North Georgia Dahlonega campus on Saturday, Oct. 14 around 1 p.m. UNG's Department of Physics and Astronomy hosted a special event to educate students and guests about the eclipse.
The event included activities that took place both inside and outside the Health and Natural Sciences (HNS) building. A free planetarium show in the George E. Coleman, Sr. Planetarium informed viewers about the science and history behind solar eclipses. On the lawn of the HNS building, visitors could view the eclipse through a telescope and build a pinhole viewer.
"I'm really happy with the amount of people that showed up this afternoon," said UNG Planetarium Director Lesley Simanton-Coogan, Ph.D., who coordinated the event. "The forecast was supposed to be cloudy today, but we've had some near-perfect viewing conditions so far."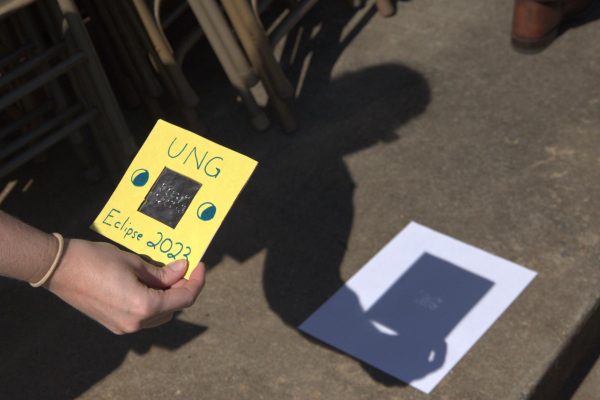 Simanton-Coogan notes that the partial eclipse was annular. Because the Moon is farther away from Earth, it appears smaller than the Sun and does not completely cover the star. This creates a "ring of fire" effect in the sky.
Watchers in Georgia were only able to see about 52% of the eclipse. States on the West Coast, including Oregon, Nevada, Utah, New Mexico and Texas, were in the path of maximum eclipse visibility.
"We won't see another eclipse this good until next year on April 8." – Lesley Simanton-Coogan, Ph.D, planetarium director
Olivia Gates, a UNG student, travelled from Oakwood to attend the event. "I used to be really interested in astronomy, so being here watching the eclipse makes me kind of nostalgic," she said.
Visit the National Aeronautics and Space Administration website to find out more information on the recent eclipse.