The highly anticipated 2023-2024 season is knocking on the door for the University of North Georgia's men's basketball program. Nov. 11 marks the opening weekend for Nighthawks hoops as they plan to take advantage of a two game home-stand against North Greenville and Young Harris.
Last season established a new precedent for the organization, a winning one. The Nighthawks are coming off a historic 2022-2023 season ending with a 21-8 record, the most wins in the schools NCAA era. The programs first NCAA postseason berth also took place during that time. Ultimately the season ended in a tough loss to Lincoln Memorial in the NCAA Division II Southeast Regional semifinal game.
The program still benefited from this postseason run. Confidence is the most important element the team gained from this experience according to Head Coach Dan Evans.
"Finishing one game out of a conference championship provides some validation of what we're capable of, and that validation can really be used as motivation for people if they use it properly," Evans said.
This offseason was crucial for the program and Evans stressed the importance of keeping focus. The team has kept their nose to the grindstone over the past couple months and worked hard to not let past success get in the way of their bright future.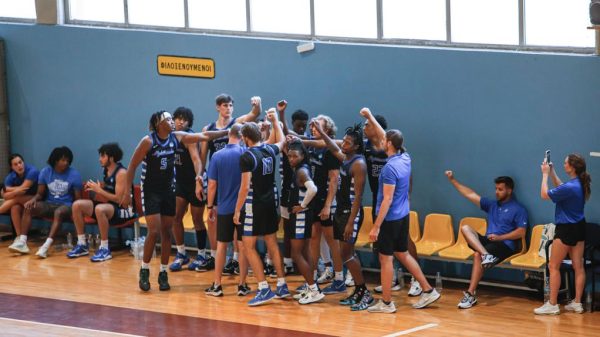 "We were able to accomplish things a year ago, but the truth is that was a year ago. It doesn't really mean much for how we play today. We need to be prepared, connected, and focused on the right things." -Dan Evans Head Coach of UNG Men's Basketball
Another factor the program gets to take advantage of is the return of all 11 players from last season's roster. Alongside these returning players, the Nighthawks have picked up three new talents to solidify the already robust roster.
JoJo Peterson is a 6'4" junior guard transferring to UNG after playing his first two years at Purdue Fort Wayne. Peterson could bring deep experience and a veteran presence to the locker room.
Zack Hawkinson is a 6'6" freshman forward from Springfield Illinois with some stacked accolades including a high school state championship and 2nd all-time leading scorer for Sacred Heart Griffin high school. Hawkinson brings even more of a winning presence to the team.
Ja'mari Arnold is a 5'10 freshman guard from Huntsville, Alabama who racked up two all-state selections as well as becoming a 1,000-point scorer in high school.
"All of them have really demonstrated the ability to be who we thought they would be," Evans said while expressing how well the new players have meshed with the team. "We believe they can be contributors to our program overtime and this offseason has just proven that to be true."
These three players were very important pick-ups that make this roster that much more effective.
Frank Champion is a name that cannot go without mentioning when it comes to the teams success. Last season, Champion was named a first team all-American by the NCAA Division II Conference Commissioner's Association. He became the first player in North Georgia men's basketball history to be given the honor. The 6'7" forward averaged an impressive 20 points and 10 rebounds last season while shooting an effective 60 percent from the field, but Champion brings more to the table than just his talent.
"He absolutely is a leader for our program, not only as a player, but as a person. He provides a great example to everybody and uses his voice well to direct us in the right direction as a group," Evans said.
It was also made clear that although Champion has high personal expectations this season, those expectations do not overshadow his focus on the program being successful as a whole.
With a strong leader in Champion at the forefront of a powerful roster, hopes are high and the culture is strong throughout the Nighthawk Hoops Nation. All UNG students, faculty and staff can attend for free using the Campus Groups app on their phone. General admission is $10 for all other spectators.