The University of North Georgia Men's Basketball team kicked off the 2023-2024 season with two straight wins at the Southeast Region Crossover this past weekend. This is the third consecutive season that the Nighthawks have started the season 2-0. 
The Nighthawks' first game was against North Greenville University on Nov. 11, ending in a 65-56 win for North Georgia. Sophomore guard AJ White led the Nighthawks in scoring with 17 points. Junior forward Frank Champion followed White with 16 points while also grabbing 11 rebounds in the win. 
On Nov. 12, the Nighthawks took down rival Young Harris College, 83-67, in their second game of the Southeast Region Crossover. UNG led by as much as 20 points during the game. White led the Nighthawks in scoring again with 21 points. Champion added 19 points while shooting a perfect 7-7 from the field. He also had 10 rebounds, securing a double-double for the second consecutive game.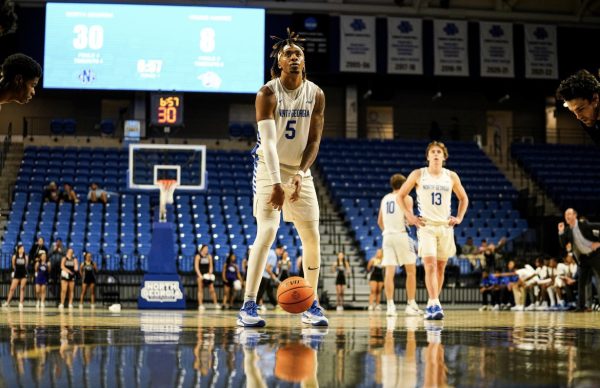 Champion's performance over the weekend earned him Peach Belt Conference Player of the Week honors. 
The Nighthawks are coming off a 2022-2023 season that ended with a 21-8 record, with the best win percentage in program history (.724). North Georgia made it all the way to the semifinals of the NCAA Division II Southeast Regional Tournament. 
Junior guard Sutton Smith said the team had a great season last year, but the program wants to build on that and go even farther this year. 
"We have an older group who works hard every day and knows what it takes to win," Smith said, "We are excited to try and do those things every time we take the court." 
Click here for more information on UNG's Men's Basketball.