When a football fan thinks of the prototypical wide receiver, the name Julian Edelman does not come to mind. Coming out of college Edelman was quite literally not seen as a wide receiver. He played football and baseball in high school and barely weighed over 100 pounds in his freshman year. He played quarterback for Woodside High School in Woodside, California, and led his team to a 13-0 record. During his high school career he posted a stat line of 2,237 passing yards with 29 touchdowns while also adding 964 yards and 13 touchdowns rushing.  Edelman ultimately went to Kent State University and played quarterback. After college, he was drafted in the seventh round by the New England Patriots in 2009. Since the Patriots already had their franchise quarterback in Tom Brady, they decided to transition Edelman to more of a punt returner/wide receiver role, and he quickly got the hang of it.
Photo Credit: https://www.businessinsider.com/julian-edelman-new-england-patriots-things-to-know-2019-1
His first season as a Patriot he missed the opener due to an ankle injury. Then in Week Two he made is first career start in the NFL due to primary slot receiver at the time, Wes Welker, missing the game due to injury. That game he led all receivers with eight receptions for 94 yards. This was only just the beginning of his amazing rapport with the GOAT Tom Brady. In his 2010-2012 seasons he was mainly used as a punt returner used on special teams. He was set to become a free agent at the end of the 2012 season so the Patriots re-signed him to a one-year deal. He did not disappoint. He posted his first thousand yard season and posted a career high in receptions with 105. He then quickly became Tom Brady's favorite target. After the season he earned his keep for the Patriots and he signed a four-year extension worth $17 million.
Photo Credit: https://medium.com/@ScottAmyx/story-of-strive-julian-edelman-and-the-art-of-bouncing-back-64e351cf6d2b
At this point of his career, he was considered one of the best slot receivers in the league. In 2014, Edelman won his first Super Bowl with the Patriots as he was a key contributor in the big game. He led all receivers with 109 yards and scored the go-ahead touchdown to solidify the Patriots' win. Although the game was saved by a key interception at the goal line by Malcolm Butler in what was maybe the most controversial play call by the Seattle Seahawks in recent memory. The Patriots then made the Super Bowl again in 2016 where they came back from a 28-3 deficit to beat the Atlanta Falcons. In that game, Edelman made an unbelievable catch on a key drive that ultimately ended up tying the game. The rest is history.
Photo Credit: https://www.si.com/nfl/2017/02/06/super-bowl-51-julian-edelman-miracle-catch
The final four years of Edelman's career were a little up and down to say the least. Injuries caught up with him as he missed the entire 2017 season due to a torn ACL. Even without Edelman the Patriots still made it to the Super Bowl, ultimately losing to the Philadelphia Eagles. He came back in 2018 and had an OK season, but not one of his best. The team as a whole reached their third Super Bowl with Edelman and he was named Super Bowl MVP and rightfully so as he caught 10 of his 12 targets for 141 yards on a 13-3 win versus the Los Angeles Rams. Some people were outraged that he won the Super Bowl MVP due to his suspension for using PEDs (Performance Enhancing Drugs). In the post Super Bowl interview he apologized for his actions.
In his final two seasons he arguably had his best statistical season in 2019 followed by his worst season overall in 2020. In 2019, he had a career best in yards with 1,117. The Patriots had a sub-par year by their standards losing in the Wild Card Round to the Tennessee Titans. Edelman only had three receptions for 30 yards, while also adding in a rushing touchdown. His final season was one to forget as he was injured for most of the season. He only played six games and had 21 receptions for 315 yards and zero touchdowns. Edelman was placed on IR (Injured Reserve) and had a chance to be activated but never did. His age and injury history got the better of him and the Patriots released him after a failed physical. He then announced his retirement shortly after.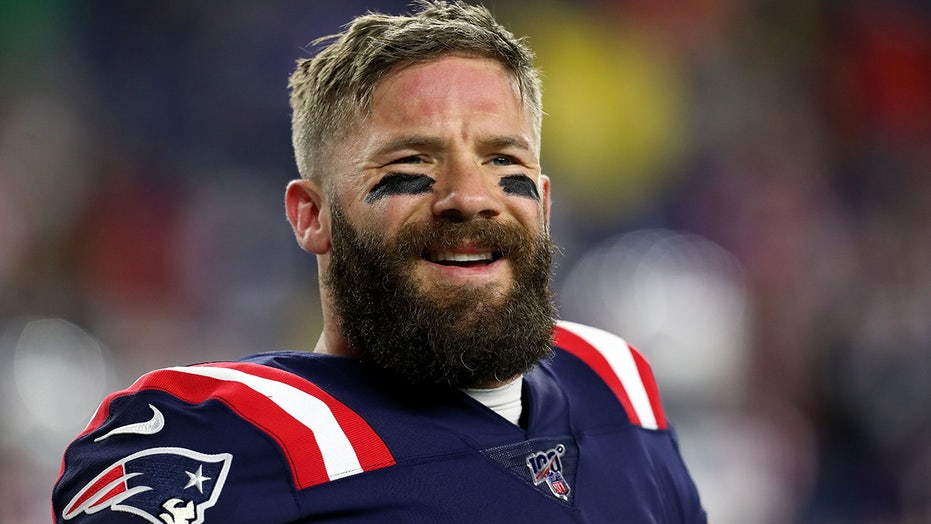 Photo Credit: https://www.foxnews.com/sports/patriots-julian-edelman-retires-its-been-the-best-12-years-of-my-life
He is arguably considered to have a Hall of Fame career due to his play in the playoffs but his play in the regular season might say otherwise. Outside of football Julian Edelman is a huge advocate for the Jewish community. As an adult, Edelman had a "Jewish Awakening" and is now a devout Jew. He has voiced his view on issues in the Jewish community most notably designing his cleats with #strongerthanhate in response to the Pittsburgh synagogue shooting. He has recently been open to teach players or anyone about the Jewish faith. In response to NBA player Meyers Leonard saying an anti-semitic slur on a Twitch stream, Edelman invited him to a Shabbat dinner and has offered to teach him the ways of the Jewish faith.
Julian Edelman is arguably one of the best slot receivers of this past decade and should be considered in the Hall of Fame conversation due to his heroics in the playoffs and his overall consistency in the NFL. His amount of passion for the Jewish community is unprecedented. He will truly be missed by all fans of the game of football and especially Patriots fans. Who knows, maybe he will come out of retirement to play for Tom Brady and the Buccaneers. Crazier things have happened.