A couple feet away from Farragut High School in Chicago, 13-year-old Adam Toledo was shot and killed by police officer, Eric Stillman. On March 29, police were called in the early hours of the morning in response to multiple gunshots fired in the area. Officers noticed two individuals in a nearby alley. Toledo was one of the subjects along with 21-year-old Ruben Roman.
A preliminary statement from the Chicago Police Department reported that there was one armed subject that fled from the officers. A pursuit on foot took place that resulted in Stillman firing his weapon at seventh grader Adam Toledo in the chest. He was pronounced dead at the scene and a gun was recovered.
A tweet was posted a couple hours later by police spokesman, Tom Ahern who called it an "armed confrontation." On April 10, a Cook County prosecutor alleged that Toledo was holding the gun when the officer shot him.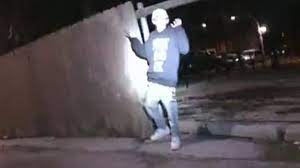 The prosecutor's claims were not supported by the Chicago police body camera footage that was newly released to the public on April 16. The footage shows Officer Stillman chasing Toledo down the alley and then coming to a stop near a fence. In the video, Toledo appears to throw what looks like a gun behind the fence and turns around with his hands up towards the officer. In a split-second decision, Stillman shot his weapon at Toledo as he turned to faced him with his hands up. Stillman has been placed on administrative leave for 30 days.
In a press conference on April 15, Chicago Mayor Lori Lightfoot said, "There are too many young people in our city, boys and girls alike, who have been left vulnerable by systemic failures that we simply must fix." She urges everyone to reserve judgment as the investigation continues and the Civilian Office of Police Accountability has completed its work.
"Chicago, as well as way too many parts of our country, has a long legacy of police violence and police misconduct that have left far too many residents, especially those who are black and brown, in a constant state of fear and pain."- Lori Lightfoot
Toledo's mother, Elizabeth Toledo wrote on the GoFundMe page for her son's funeral expenses that Adam had many dreams he will never get to live out.  "Ironically one of his dreams was to become a police officer," she said. Adam Toledo is remembered by his teachers and family as kind, funny, intelligent, and full of life.
"He was a child that brightened up the room when he would walk in."- Elizabeth Toledo
Peaceful protests have flooded Chicago's Little Village demanding justice for Adam. Latino activist groups have increased pressure for change and continue to urge Mayor Lightfoot for reformation in police training and an end to pursuits on foot. Lightfoot has listened and said, "We have to do more starting with reforming the Chicago Police Department's policies and particularly, the foot pursuit policy. Foot pursuits put everyone involved at risk, the officers, the person being pursued and bystanders," she said.