The Language Lab on the Gainesville campus offers to tutor and help for Arabic, Chinese, French, German, Spanish, and Japanese. If students wish to learn Farsi, Italian, Korean or Russian, they can contact the Dahlonega Language Lab.
They are located on the fourth floor in Nesbitt in room 4201. They have 12 student workers, a coordinator, and a lab director.
Their primary role is to create an environment where students feel comfortable speaking the language they are learning and get the help they need in their journey to learn other languages. 
Daniel Noh, the language lab coordinator, said his favorite part of the job is learning about diverse cultures with his lab assistant and students. He stated, "Everyone has a story to tell, and things make more sense knowing the cultural context from which the story is told."
Not only does the lab help with any concerns the student may have, but they also coordinate and design materials for Spanish and French 1001 and 1002 courses.
They use many programs to assist students, such as VoiceThread, Extempore, Flipgrid, Padlet, and Mango, which they can access with their Microsoft account.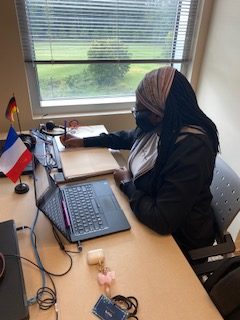 The language lab also collaborates with all the Study Abroad programs and international internships. They offer programs in Arab, Spain, Peru, and Canada. They even have a program where students can study in St. Augustine, Florida. 
David Hair, lab director, travels with students to help maintain everything in order and guide students through their journey. His office is also in the language lab and can help students know more about what the program offers, its benefits, etc.
Ivana Morales, a Spanish tutor, has worked in the lab for over a year. Her job consists of grading, tutoring, and giving workshops. 
"As I grade Spanish 1001 and 1002, I admire watching students progress on their speaking skills. It shows that it's never too late to learn something completely new." – Ivana Morales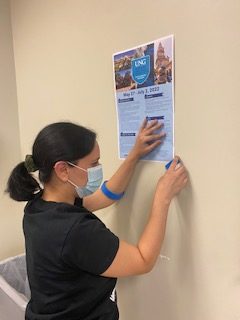 The tutor recommends students learn Spanish because it is the second most used language in the U.S. She believes it's important for people to communicate with others without their being a language barrier issue.
From her personal experience, she recommends students learn the grammar first and later focus on the pronunciation since that builds the language.
They have an Instagram account to keep students updated with their events and TA's; they are currently working on their Dia de Los Muertos event. Another upcoming event is a Research Lab, where they will have a panel of five professors who give a five minute presentation of their research topic.
They want to encourage students to be a part of these events to show awareness of other cultures.