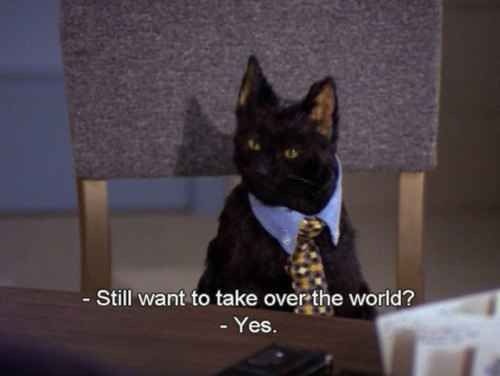 On Halloween night, it has always been said to keep your kids under close supervision while they venture off into the dark. The same advice has been followed by owners of black cats. These inky-furred felines have often been seen as a classic symbol of Halloween. Unfortunately, black cats are still connected with ancient myths, superstitions, and black magic.
In Medieval Europe black cats were thought of as the familiars of witches or that shape-shifting witches would take the form of these creatures. During the witch trials, cats were frequently burned at the stake alongside the accused witches. These misunderstood animals have also been associated with evil and bad luck (don't let a black cat cross your path). But behind the myths and superstitions surrounding these animals comes the difficult realities of the mistreatment of black cats.
While it is not heard of very often, the potential abuse and torture towards black cats during the month of October and Halloween night is still an issue that pet owners have in their minds. Penelope Owens is the owner of five cats, two out of the five are tuxedos. Owens is one of the many cat owners that will be keeping her furry friends inside on Halloween. "I've never really known if it's an urban legend or a true thing, but I've always taken it as a fact and acted accordingly," said Owens.
The Humane Society of Forsyth County recommends keeping all cats indoors but black cats especially around Halloween time. "There are still people out in the world that believe black cats are bad luck and should be sacrificed on Halloween or do horrible unkind things to black cats," said Humane Society Representative.
HSFC used to not allow black cat adoptions close to Halloween because of the superstitions that follow them. However, they have now transitioned into permitting adoptions as long as people have approved applications and are certain the cats are going to good homes.
Despite their ties with Halloween, black cats have a harder time getting adopted once they're in a shelter. People tend to overlook them due to them being plain black and not having patterns, colored eyes, or markings.
"We do get quite a few people they will go into our cat rooms and say the black cats are very sweet, but they don't want to adopt a black cat." – Humane Society of Forsyth County Representative
The best way to disprove negative associations with black cats is to educate the public about the myths and realities surrounding them. It is important to get more positive words out there by sharing pictures on social media to show how great these types of cats are. The HSFC makes sure the cats get socialized and have good profiles for people to read. These methods will help create a connection so these animals can be placed in a loving forever home.