UNG Hosts Luncheon and Discussion with Estonian Ambassador
The Estonian Ambassador, Kristjan Prikk, visited the University of North Georgia Dahlonega campus on March 4. UNG held a luncheon with the ambassador in the banquet room of the dining hall. A diverse cross-section of the university was represented, and the event was well attended by many students, faculty and staff.
Ambassador Prikk has served as Estonia's Ambassador to the United States since May 2021. He is the former Secretary of the Estonian Ministry of Defense and a graduate of the Army War College.
During the luncheon, he gave out a presentation covering a brief history of Estonia and its transition and recovery from a Soviet republic to a vibrant democracy. He also explained his country's status as a high-tech hub and an "e-government." After the presentation, there was a question and answer period open to all the participants.
During the Q&A period, Ambassador Prikk mentioned the issues of neutral Finland and Sweden's NATO membership. "For the first time ever, the majority of Finns wanted to join NATO. The Finnish prime minister once said that their national security policies are not made based on polls, but still the result shows that there's a clear shift in public opinion," said Prikk. He added, "For us, having Finland and Sweden in NATO would be the most important positive factor affecting national security in the current situation."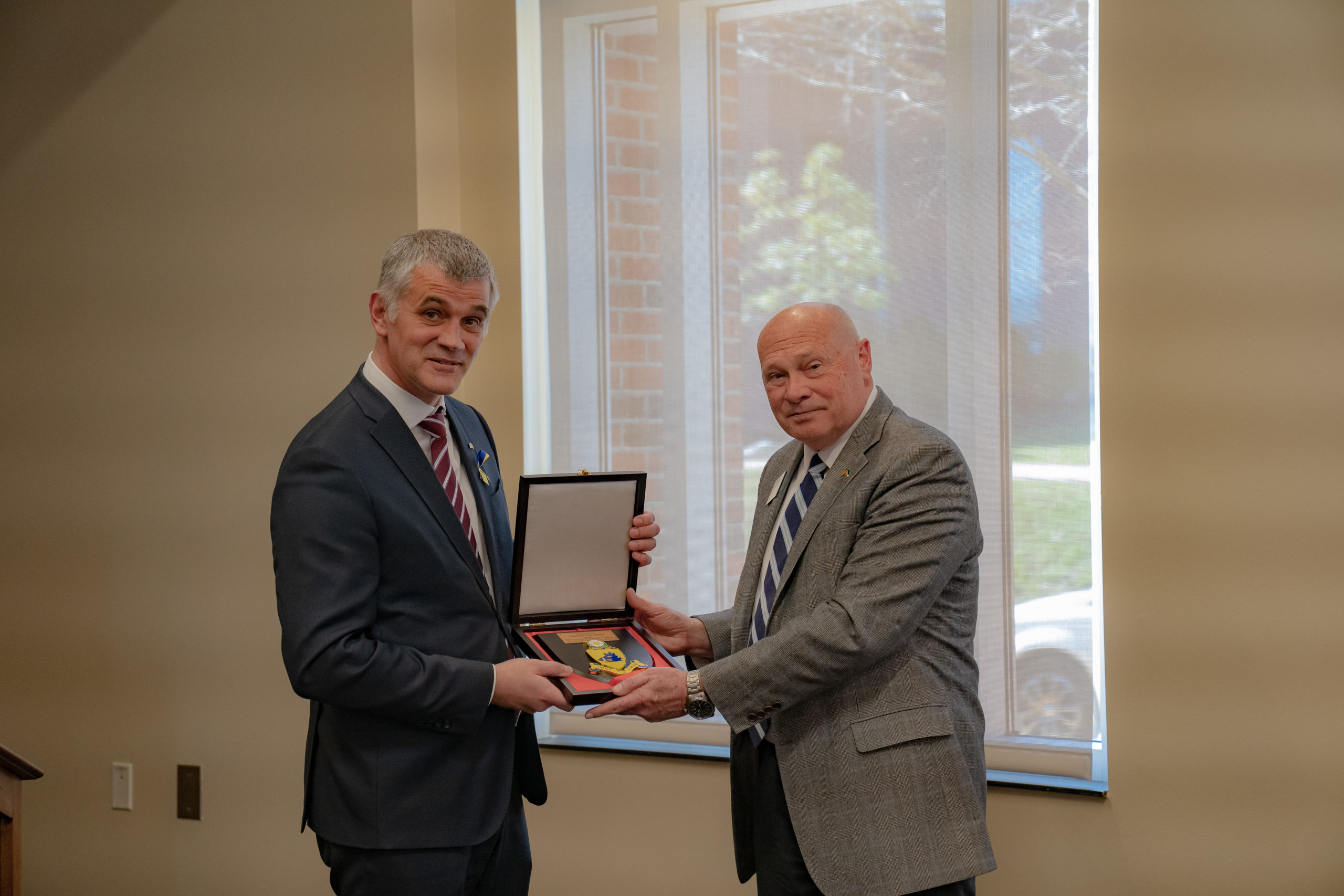 Li-Hung Chang, a Taiwanese cadet majoring in criminal justice, said, "To be honest, I didn't know much about Estonia. It was interesting to find out that the country has strong democratic institutions and that their political rights and civil liberties are widely respected."
Dr. Raluca Viman-Miller, an assistant professor of political science and international affairs, also participated in the luncheon. She said, "Today's meeting has been a great opportunity to meet with representatives of the NATO alliance, given the fact that we are in a very precarious international situation with an open-ended conflict in the former Soviet area. It was very interesting to see the perspective of somebody from a country that is living under the daily threat of a potential Russian invasion."
"The visit by Ambassador Prikk was an excellent opportunity for UNG students, cadets and faculty to engage with a senior diplomat," said Wesley Pirkle, the Director of Global Military Programs at UNG. He added, "Personally, the Ambassador's insight into NATO, the EU, the Nordic/Baltic region and the current conflict in Ukraine provides an invaluable perspective on the current international landscape."
Leave a Comment
Your donation will support the student journalists of University of North Georgia. Your contribution will allow us to purchase equipment and cover our annual website hosting costs.