On April 7, Diversity Talk about South Korea took place both virtually and in person at Memorial Hall 208, Dahlonega campus. The talk was hosted by Supplemental Instruction and the Center for Global Engagement at the University of North Georgia. Youn Ha Park, a Fulbright Korean teaching assistant at UNG, delivered her presentation introducing South Korea and had a Q&A session during the one-hour talk.
According to CGE International Students, Diversity Talks focus on cultivating competence and global awareness through a series of stories and presentations from an international lens. The goal of the Diversity Talks is to expand the understanding of diverse topics, unique cultures, identities and individualities worldwide. This South Korea talk was the third event, followed by Japan and Mexico.
Starting from the location of South Korea, Park aroused the audience's interest by introducing interesting facts about the country. "It is common to ask about blood types in Korea," she said. She explained that there is a myth that blood type decides personality traits; similar to how constellations are considered in America.
Park also described how Korea has its own unique age-counting system. Unlike the international age, Koreans are "already one-year-old when they are born, and they age a year every New Year." Park added, "I am always older in Korea. I am younger here now, so I am very happy about it."
Then the Park dealt with Korean culture. She showed beautiful pictures of the capital city, Seoul, explaining how the city is a mixture of tradition and modernity. Then she introduced the traditional culture of Korea, including national holidays, traditional food and clothing. In particular, she emphasized how Korean traditional clothing, "Hanbok," has been around so long in history and has changed over time.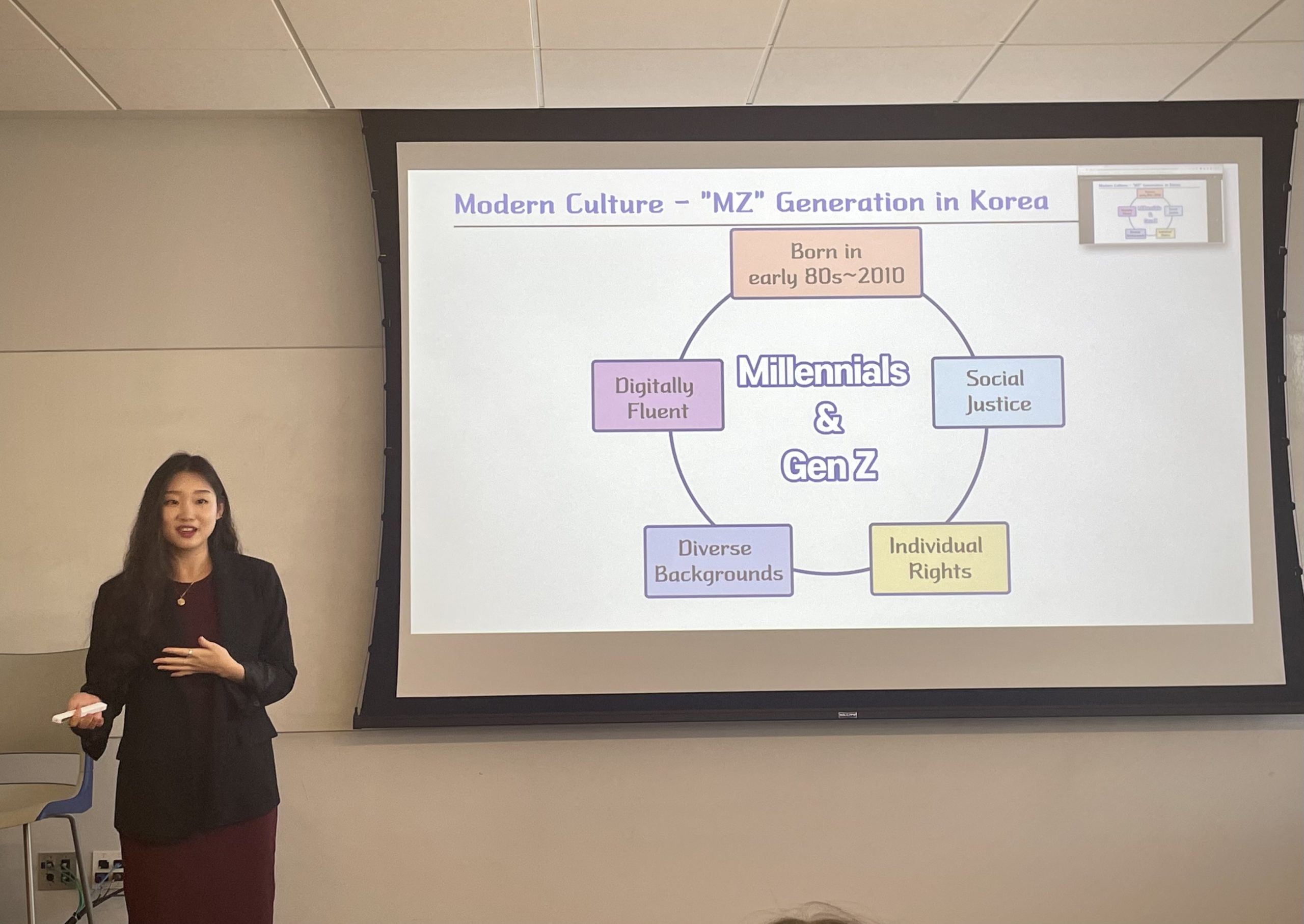 Park moved on to talk about modern culture, saying, "This could be the dark side of Korea, but I think it is also important to tell you not only about the beautiful traditions but also about the social issues in modern society. It is also part of our culture."
According to her presentation, the "MZ generation" is what Koreans refer to as the millennials and "Gen Z." "They grew up in a hypercompetitive society, where they were told to get better grades, go to better universities and get better jobs," Park said. But now, the new generation has started to "say no to this endless competition." She further explained that they tend to claim individual rights rather than collective virtue, emphasize social justice and care more about the present than planning the future.
Park linked these characteristics of the "MZ generation" to the emerging social issues in South Korea. She said, "In my opinion, the MZs don't prefer to sacrifice themselves for others but care about their own lives first." Showing a graph of the declining birth rate, she explained that South Korea's population declined for the first time in 2020. She said there is a low marriage rate in Korea, and the birth rate is "getting lower and lower as a result."
Park also pointed out "lookism" as one of the serious social problems in Korea today. Lookism is prejudice or discrimination based on physical appearance, represented by a slim figure, a small face, a v-shaped jaw, flawless skin and larger eyes. It is basically due to media influence and how it portrays K-Pop stars and actors. She said that "the prettier, the more successful" is a social norm in Korea. "This is a challenge because it increases plastic surgery and causes unrealistic beauty standards. It will end up with a lack of diversity in this society," said Park. However, she hopes for a positive change in this norm as the MZ generation "claims diversity and unique identity of individuals."
To change the serious mood of the talk, Park talked about what to do and not to do in Korea. It was noticeable that this part of her presentation gained a lot of interest among the audience. "Do not smile at strangers," said Park. She said that people in South Korea, especially in big cities like Seoul, might be very busy passing by. She added, "They might think you are weird or consider that you have a certain purpose if you smile at strangers."
Park also described what the seats are like in Korea's public transportation. She warned not to sit randomly when using public transportation. "We have designated seats for the elderly, handicapped and pregnant women. You should be careful not to accidentally sit on others' seats," said Park.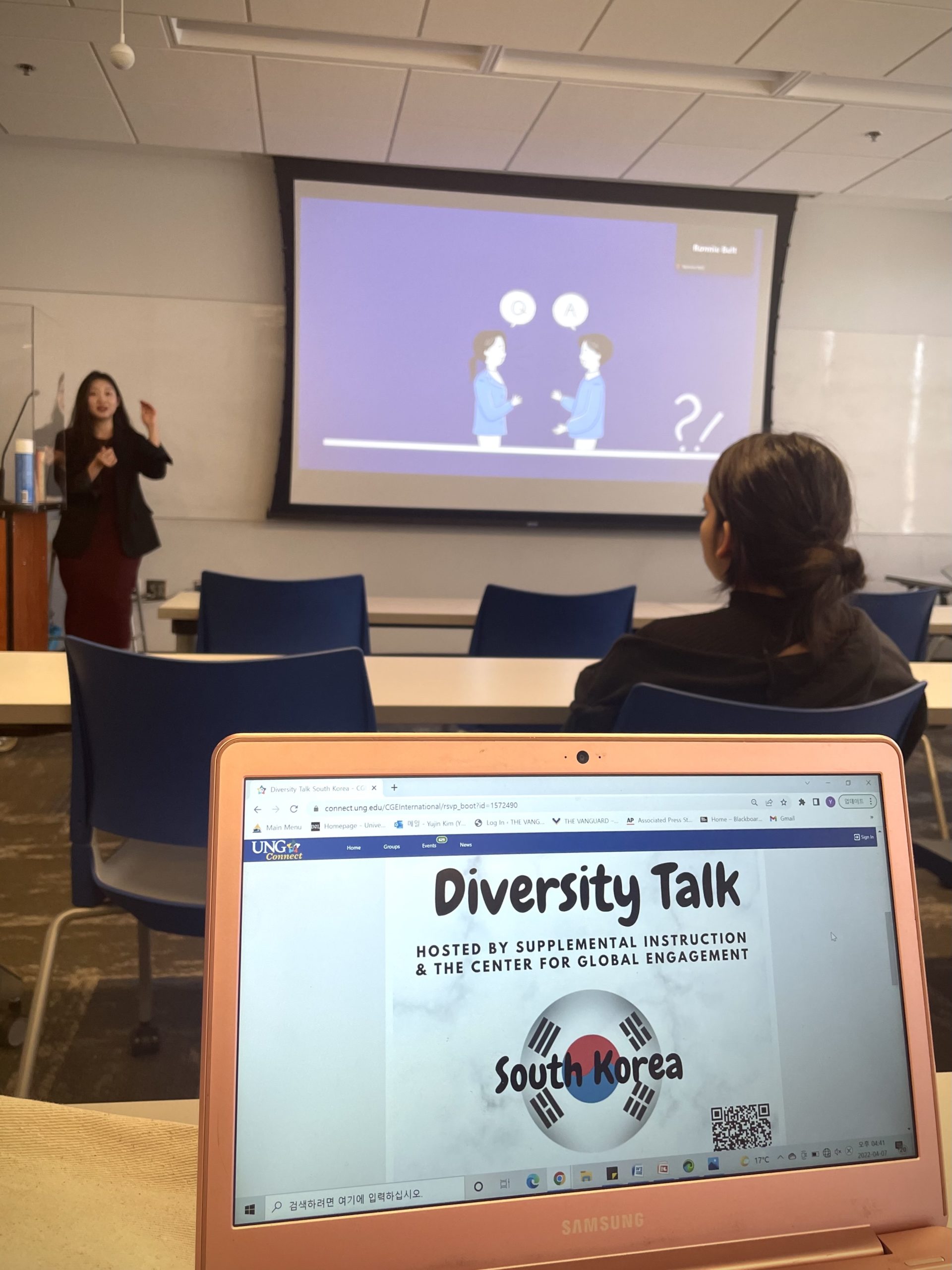 At the end of the presentation, she added her own desire for her country. "I personally want to see more diversity in Korea. Korea is a mono-ethnic country. Since there are lots of foreigners coming and more multicultural families are being created, I would like to see people accept and acknowledge the difference," said Park.
Sheila Schulte, the Associate Vice President of International Programs at UNG, said, "I think she did a great job. It was both light and interesting, but also dealt with deeper social issues. Knowing both is very important for us. I also think it is great to have people come together and have a chance to discuss other cultures."
Alex Hughes, a dual enrollment student at UNG, said, "Knowing about the do's and don'ts was very interesting. I smile at people every day, so that will be very difficult when I go to Korea."
Jenna Thomas, an East Asian studies major at UNG, said, "The different seats on public transportation were really cool. Subways in New York don't have that. If you are old or pregnant, you just have to stand up and hope somebody is nice." She also added that it was interesting to see the tradition within modern cities and how Koreans try to "keep and preserve the culture."
After the talk, Park said, "I happily accepted the offer to give this presentation today because I am here to be a cultural ambassador as a Fulbright foreign language teaching assistant. I knew I had to do it. Overall, I am really happy to show what South Korea is like to American students here. I just want to say that we are so much more than BTS, and you should visit Korea to see more. Hopefully, I encouraged them to think that they want to visit Korea once in a lifetime."