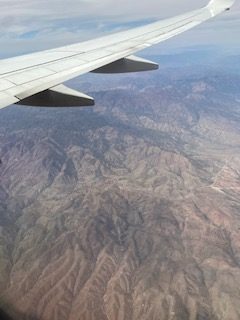 It's 9 p.m. in Honolulu, 79 degrees and the salty island breezes are flowing swiftly through the air when Will Hollowell steps off the plane and into his new venture for the next year and a half. Graduating high school and quitting his job three weeks prior, Hollowell decided to just go. The destination Hawaii: now 4,300 miles away from home, no plan in sight, he seeks out a place to lay his head for the night.
With only his backpack and suitcase in hand Hollowell Ubers to a nearby town, Waikiki. Upon arriving at 11 p.m. he walks to the beach, lays his stuff down and without hesitation joins a party that lasts several more hours into the night. At the party, he meets a guy named Rhodes, who he's still friends with today, and who just so happened to have an AirBnb.
The following morning Rhodes and a group of his friends took Hollowell to a local favorite, a breakfast joint called Eggs and Things. Hollowell experienced his first authentic Hawaiian dish, a Portuguese sausage and egg bowl that was all locally sourced. Hollowell went on to say how almost all the food there is very fresh. "On the West side in Oahu is where the first pineapple plantation in the U.S. is. There were like 2,000 acres of pineapples there. Oh, and the seafood is so good. Even if you don't like fish or seafood, you need to try it there because it's different than anywhere else, it's their culture," said Hollowell.
The 22 year old stayed in Hawaii for a little over a year, visited three of the five islands, and only had to rent a place of his own for one month. He'd meet friends at parties and on the beach, who'd lend him couches, a room, and he even managed to borrow an entire penthouse overlooking the water for a month. Hollowell was just hanging out with his boss Kyle and fell into a conversation with Kyle's parents when they offered the place to him.
Hollowell found both of his jobs through the same technique, one of those being a moped rental shop, that ended up gifting him one of the bikes to get around the island.
"All of the people I met over there were just so open-armed with the adventure, everyone supported me. They loved that I didn't have a plan and that I was sticking around to just be there," said Hollowell.
Hollowell's favorite pastime in Hawaii was traveling around to the different islands and hiking. "I'd take a buddy with me from the night before and we'd go explore, you don't want to hike by yourself over there, it's pretty intense terrain," he said.
He even tried surfing but it ended with another surfer crashing into him and dislocating Hollowell's arm. However, the two are still friends today; Hollowell was at a gathering later that week complaining about the experience when the same guy overheard and admitted to what happened, the two laughed it off and drank a beer together.
Hollowell said he spent at least 15 nights sleeping outside on a bench or the beach, arrived back to the U.S. with seven dollars in his wallet and had to figure out how he was going to pay his bills. Despite all of this he says he wouldn't take any of it back for the experience and the friends he made along the way. His advice is just go. "Experience all you can while you're there, don't just stay in one place or on one island, there's so much to do and you can cover one island in a day so, jump around," he said.
He steps off the plane at Hartsfield-Jackson Atlanta International Airport in his shorts and crocs and thinks to himself, "Damn, its cold." Finding he feels homesick for a place that isn't home.