A Playground Revival Begins in Hall County 
Non-profit organization, Hope for Hall, gives hope for all children in Gainesville, Georgia. 
Caroline Filchak started Hope for Hall in January 2023 and has already received full funding from multiple donors and permission from the city to build an all inclusive playground for Wauka Mountain Elementary School. 
Filchak has two children – a son and a daughter. Her daughter, Hope, was born with multiple disabilities. While out running near the school, Filchak began thinking about how her son would be able to play on this playground with his sister, his best friend. The answer she came to was heartbreaking: she would not. The playground was not designed for a child like Hope to play on. Hope for Hall, aims to change this scenario for every child. 
Wauka Mountain Elementary School will be the first inclusive playground at any of the 20 elementary schools in Hall County. The playground is set to be finished in the fall so that the elementary school kids can use it for recess.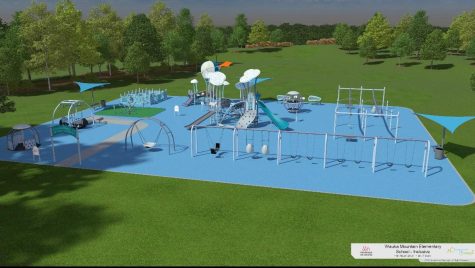 "All kids are worthy. All kids belong, and all kids deserve a place to play with their friends." – Caroline Filchak, founder of Hope for Hall
The playground at Wauka Mountain meets standards under the American with Disabilities Act, but the equipment is not made so that children with disabilities can play on it. These children are left with few options. They can sit in the gym or the library or they can sit on the sides of the playground and watch their friends play. 
The solution to segregation on the playground has been around for about 23 years but has only started to gain a bit more traction recently. The first inclusive playground was built in California in 2000. Filchak says that 35% of playgrounds in the U.S. are inclusive playgrounds. "What we're doing is not new and revolutionary. It's something that has been there as a solution for a long time that people are not taking advantage of," says Filchak. 
The American Psychological Association has stated that play is a necessity, and Georgia has passed a bill mandating recess in grades K-5. This bill has failed to address how children with disabilities are supposed to play. Filchak says that there is a great possibility for legislative change in this area. 
"We really think that inclusive playgrounds can change the community," says Filchak. The Wauka Mountain playground is open after school hours and on weekends, providing families with time to go and play during non-school hours. 
According to Filchak, the goal for the playground is "an inclusive playground that allows people to fully engage in the play experience. No one is sitting on the sidelines because of their disability or ability."  One of the biggest changes from a typical playground is that there will be no mulch. The new playground surface will be rubber which will make it easier for people using wheelchairs or other mobility aids to access the playground.
Children with cochlear implants and hearing aids are told not to use plastic slides because the static can mess up their hearing device. Filchak says that the playground will have a metal roller slide in addition to a plastic slide. 
The playground will also contain communication boards for children who are nonverbal. The boards will have images and signs on it so that the children can still communicate with their friends. 
There will be a high back swing that a person in a wheelchair can transfer to and be able to swing with their peers. The plan for the playground also includes two pieces that children do not need to transfer out of their wheelchair to use. "We have the Roll-On- Merry-Go Round and the We-Go-Swing where children in wheelchairs don't have to get out of their wheelchairs to play," says Filchak. 
The plan includes a zipline that accommodates both a typically developing child as well as a child with disabilities.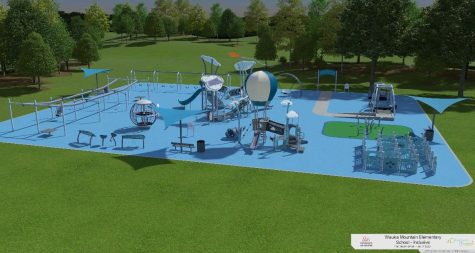 "One of the best things about our playground is we are tying in the education piece of our mission – normalize disability through play, education, and technology," says Filchak. The playground includes biographies and pictures of Helen Keller, Louis Braille, and Matt Stuzman, an archer who learned to shoot with his feet. Filchak says that the hope is that "they are playing, and they are learning."
"If you're going to build a playground, why not build an inclusive playground?" – Caroline Filchak
The mission of Hope for Hall is "to normalize disability through play, education, and technology." But the broader mission is to continue to advocate for inclusive playgrounds and figure out ways to make the other 20 elementary schools in Hall Country more inclusive. 
Filchak says that the county contributed 150 thousand dollars to help build the playground at Wauka Mountain Elementary School, and she hopes that they will continue to consider funding these playgrounds in the future. 
"I always think awareness is important," says Filchak. She encourages the University of North Georgia community to continue to learn about "disability, disability history, and disability in the community." Another way that UNG can support the Hope for Hall mission is by "creating a place of belonging and inviting people with disabilities into what they are doing whether its clubs or sports or bible studies or whatever – allowing the disabled community to integrate into the fabric of what UNG does." 
Leave a Comment
Your donation will support the student journalists of University of North Georgia. Your contribution will allow us to purchase equipment and cover our annual website hosting costs.
About the Contributor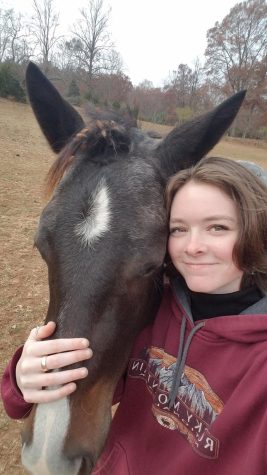 Mackenzie Anderson, Staff Writer
Hi! My  name is Mackenzie! I am a sophomore from the Dahlonega campus. I am getting my degree in Communications with a minor in Spanish. My favorite part...