The Highlands to Islands trail is an exciting project being constructed across Hall County. Like the Atlanta Beltline, this paved footpath will enable pedestrians and bikers to safely traverse over thirty miles of the county, connecting several neighborhoods and local hotspots.
The southernmost sections of this project are Lake Lanier Islands in Buford and to the east in Braselton. The trail connects all the way to northern Gainesville with other parts of the trail going off in other directions within Hall County. This is particularly exciting for University of North Georgia students, as the trail connects with the long-established wooded footpaths at the Gainesville campus which start next to the track and tennis courts.
One of the downsides of living in Hall County has always been a lack of sidewalks or public transit, which forces residents to own vehicles or rely on taxis and ride-share apps to safely get around town. That's something that the county and city governments have been trying to change in the past two decades.
Part of their effort has been creating the Gainesville Hall Metropolitan Planning Organization (GHMPO). This organization is responsible for several urban planning and transportation projects in the area, including the Highlands to Islands project.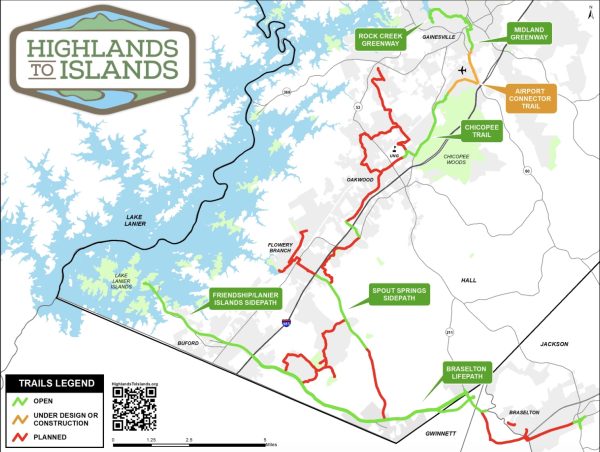 "We are the long-range transportation planning body for the Gainesville urbanized area, which includes all of Hall County, its municipalities, and a portion of western Jackson County," Transportation Planning Director Joseph Boyd said. "Gainesville Hall Metropolitan Planning Organization maintains a 30 year long-range transportation plan that is the guide for major transportation investments in the future."
The Highlands to Islands trail system connects pre-established trails with newly constructed ones, so as to provide continuously paved, cohesive pathways. When it comes to safety, Boyd says, "Lighting is being installed in the more urban areas of the trail, such as near downtown Gainesville. Currently no sections have cameras, but it has been discussed moving forward in the more urban areas of the trail."
He says regular patrols have been discussed for certain areas of the trail, and use of the trail after dark is discouraged.
The trail system passes many local businesses, restaurants, playgrounds, the Gainesville skatepark and various lakefront parks.
This project is continuing to attract new businesses, such as the new NoFo Brewing Co. at the Midland Greenway and is adding to property values across the county.
"We expect many more businesses to open along the trail. Similar growth in businesses has been seen on other similar multi use paths around the state." – Joseph Boyd, GHMPO Transportation Planning Director 
"Gainesville is getting so fun," says Oakwood resident, Briana Ellington, "I haven't gone to the new NoFo location yet but I'm excited to take my dog and my daughter over to Midland and make a day of it now that the weather is cooling down!"
This extensive trail project is coming together quickly now after years of preparation but there are still a few sections of the project that have yet to be constructed and several that are either under construction or have recently opened. Back in February, the section that connects to UNG's Gainesville campus was completed. This part of the trail enables students and locals to cross under Atlanta highway through a cement tunnel, avoiding traffic hazards, and continues alongside Chicopee Woods Golf Course up to the Gainesville Airport.
The tunnel has already fallen subject to graffiti vandalism. Hall county is partnering with Vision 2030 to commission a mural in the tunnel that will cover and discourage further graffiti.
"Personally, I like the graffiti" says Gainesville native, Jessie Adams, "But I'm really excited to see what kind of mural they end up doing. It's always a green flag, to me, when a city supports it's local artists, so hopefully they commission someone from Hall County."