Agritourism has been instrumental in saving farms throughout America while still providing the local populace with valuable attractions such as sightseeing, fruit picking, and corn mazes. Buford Corn Maze and Jaemor Farms offer enticing options for Gainesville students who want to relieve some stress this fall semester.
Buford Corn Maze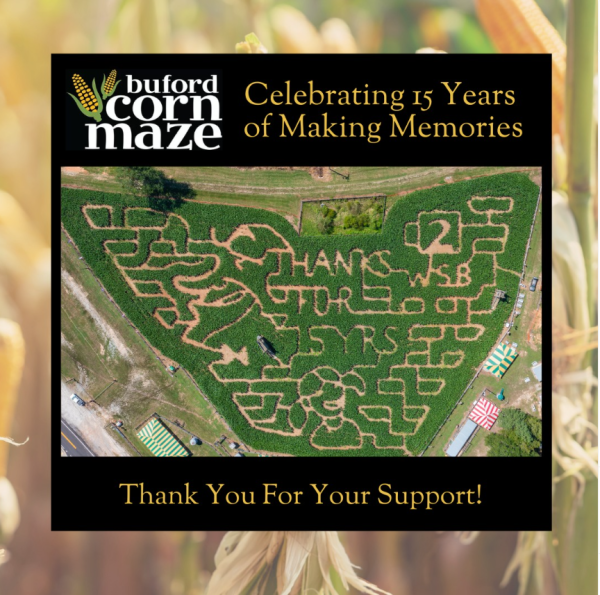 Co-owned by the Miller and Beggs families, Buford Corn Maze was recognized by Country Living three years in a row as one of the best corn mazes across America and is celebrating its 15th anniversary.
It caters to all ages, offering kid-friendly attractions such as pedal cars, the "corn popper pillow," and the kid zone, while at later hours, the haunted forest is sure to spook adult guests. James Scott, who headed the forest project, drew inspiration from the "Evil Dead" movies and first-person shooter games to craft the experience. The attraction features live actors interacting with spectators to create what farm manager Jeff Manley calls "good ol' scared fun."
The maze offers concessions in the form of Hispanic foods, hot dogs, and burgers. They also have their "CORN"-er stores various products to indulge in.
Buford Corn Maze remains dedicated to agritourism as an avenue to entertain and educate the public.
"Farms are disappearing. The owners are really committed to not only entertain but also educate folks on where their food comes from." – Jeff Manley, Farm Manager of Buford Corn Maze
Buford Corn Maze is open every Friday, Saturday, and Sunday in September and every day in October until 10 p.m.
Tickets for Buford Corn Maze are available in person and on their website, and Manley suggests ordering online is the best way to get in front of the crowds.
Jaemor Farms

Credit: Jaemor Farms' Facebook Page
Carli Echols, a 2019 University of North Georgia alumna, and Jaemor's Agritourism and Marketing coordinator, expresses that Jaemor "loves Nighthawks," and any students are more than welcome at the farm.
Jaemor's corn maze opens on Sept. 29 and closes on Oct. 29.
On Oct. 20 and 21, Jaemor will have two "flashlight nights" ending at 10 p.m. compared to their regular closing time of 7 p.m.  
Beyond the maze, Jaemor features farm slides, apple cannons, barnyard baseball, and hay rides. Paintball and gem mining are also available with additional fees.
The maze's theme this year is "One Nation Under God." This line of the Pledge of Allegiance emphasizes the kind of values that Jaemor sees as vital to their business.
Purchasing tickets online is $15 per person on weekdays and $17 per person on weekends. Students can get $2 off ticket prices through Jaemor's website using the code "UNG23" at checkout.