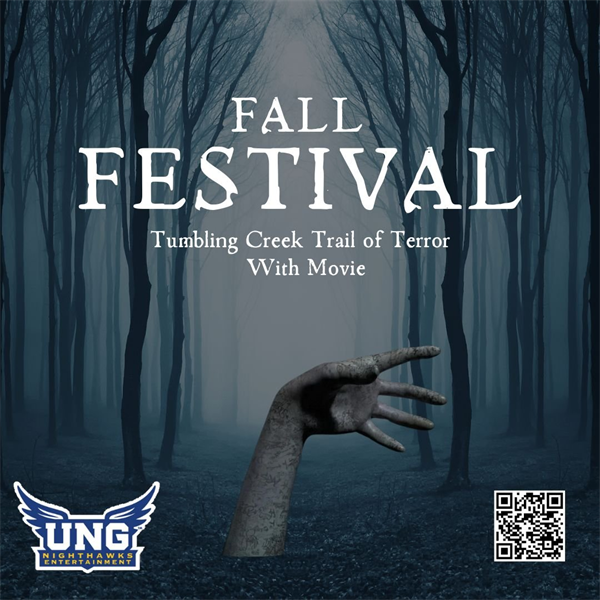 The University of North Georgia will host its annual Fall Festival on Friday, Oct. 27 from 7 p.m. until 11 p.m. The event will take place at the G.W. Bailey Amphitheater on the Gainesville campus as well as the Tumbling Creek Woods behind the venue.
The event will be geared towards UNG students. Each student will receive a wristband and complimentary t-shirt with the use of their student ID.  The wristband will allow current and former students to receive free food and snacks inside the event. The event is open to the public, however, they will not receive a wristband.
There will be a variety of festivities such as yard games, food and even an outdoor screening of a horror movie. This year's main attraction will be the never-before-seen "Tumbling Creek Trail of Terror" that Nighthawks Entertainment plans to debut.
Tumbling Creek Woods is a 77-acre wooded area with a wetland fed by Tumbling Creek. The property is adjacent to the University's Gainesville campus and owned by the University of North Georgia Foundation.
Haunted trails have been a staple of Halloween season for decades and UNG aims to give students the chance to partake in such an occasion. According to Adrian Luna, Treasurer of Nighthawks Entertainment Gainesville, a lot of time and effort went into creating an authentic haunted Halloween experience. The attraction will take place on the main nature trail behind the Gainesville campus and will include animatronic figures and scare actors.
"We want to make the haunted trail a tradition on the Gainesville campus, and we hope that it gets the reception we want it to so it can become an annual thing." Adrian Luna, Treasurer of Nighthawks Entertainment Gainesville
If visitors choose not to participate in the trail, the festival will also present "Talk to Me", a recently released horror movie. The film became the highest-grossing horror release in the U.S. of all time for Studio A24, a small but very admired independent film distribution and production company responsible for producing films like "Hereditary" and "Midsommar". The movie will be shown on a large outdoor screen within the festival grounds. Students can enjoy either or both attractions.
"Talk to Me" may contain distressing content. This includes suicide, which some may find upsetting. If you attend the event and would like to speak with someone concerning your experience or if you would like support, please dial or text 988 for the National Crisis and Suicide Hotline or dial 1+(833)910-3368 for the UNG Mental Health Support Line (24/7/365).
The UNG Recreation and Wellness Department will be assisting in the event by providing yard games. More details on these activities will be released by Nighthawks Entertainment closer to the time of the festival.