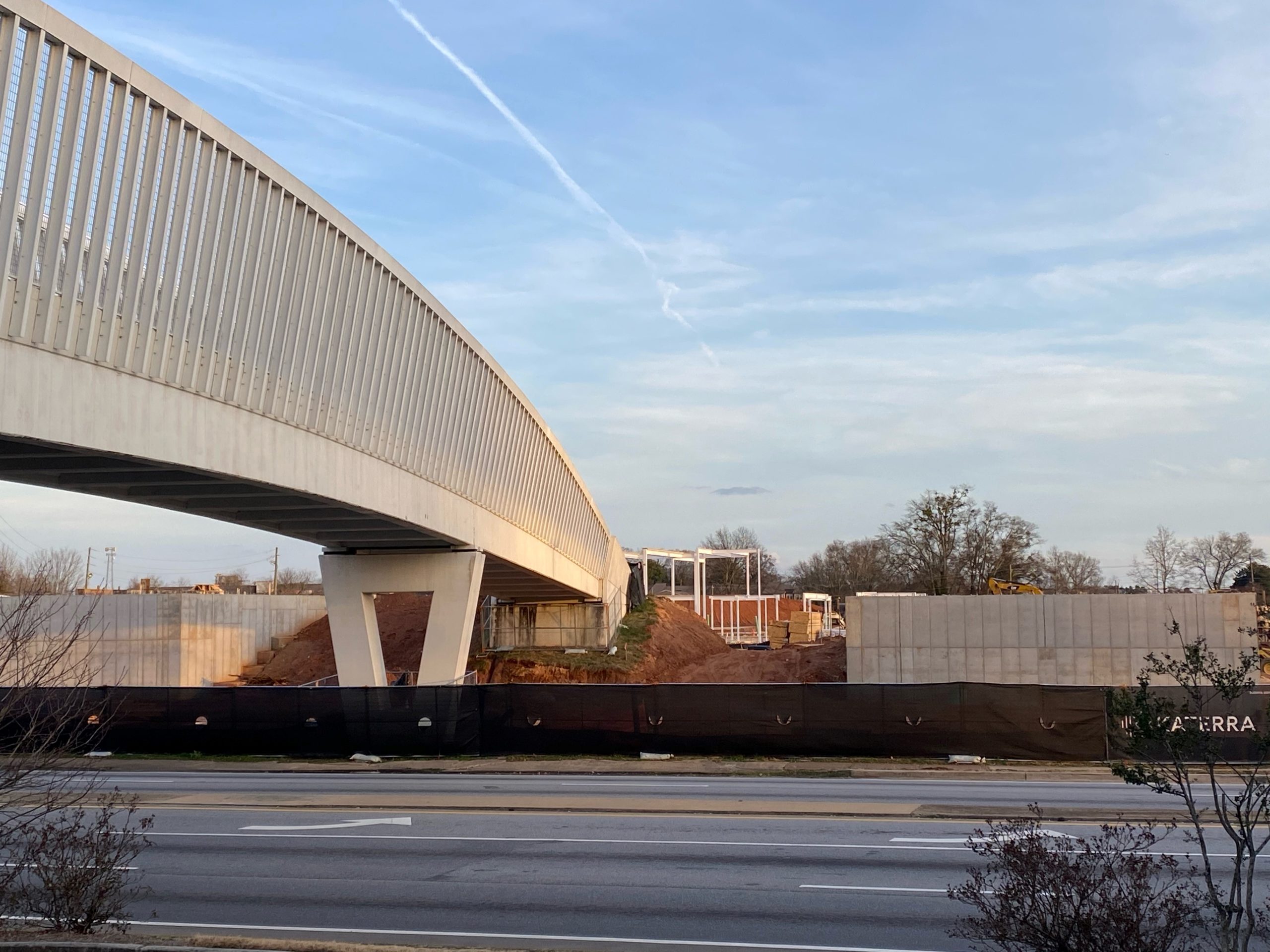 As you drive through downtown Gainesville, along the main throughway Jesse Jewell Parkway, you will drive beneath a picturesque, white pedestrian bridge.  This infamous bridge had long been a topic of conversation amongst Gainesville citizens.  The city built the bridge in anticipation of new development across from the historic square and Brenau campus.
It was dubbed the "Bridge to Nowhere" when it became clear the vacant lot it connected to was going to remain that way.  However, construction has finally gotten underway and a shiny new mixed-use development will occupy the once barren lot.
This is exciting news for the façade of downtown and will offer new opportunities for shopping and living in the desirable location.  Developer Terwilliger Pappas Multi-Family Partners, LLC, purchased the property and broke ground in summer of 2020.  The company, founded in 2013, has focused on providing modern apartment complexes in the southeast.
The complex will provide two retail buildings and three apartment complexes of over 220 units.  Dubbed Solis Gainesville by construction contractor Katerra, it will measure in at over 287,000 square feet of living space and a pool cabana.  The high-value location and access to the bridge will provide residents access to the dining, shopping, and leisure of the city center.
In an interview with Assistant Project Manager Jackson Harris, he described the project as, "a place for anybody that needs somewhere to stay."
He went on to say, "They will be higher-end apartments." Given the location, it makes sense for the mid-rise building to give occupants the luxury of big-city-living.  This addition to the Gainesville skyline might also attract more people to the city on the grounds of leisure.
"People called it the bridge to nowhere.  We are hoping to turn it into the bridge to somewhere," said Harris.
The city of Gainesville seems to have hit a development boom.
Carrol Daniels must be doing well, as they have been contracted for work at the UNG Oakwood campus and, more recently, a new retail complex directly adjacent to the square.
The additions of residential and commercial spaces will surely be a benefit to the growing city. It is exciting to see fresh additions to the historic downtown.
When asked about any other prospects in the city, Harris said, "The owners of the plot are also in talks with the city about buying another property nearby."
Expect more buildings to pop up in Gainesville.  With the current projects in the works, new businesses opening, and plenty of vacant, under- and dis-used lots available, Gainesville has a bright future of growth.
Anyone interested in viewing more of the project plans for the new development can go to their website at katerra.com/projects/solis-gainesville/