The University of North Georgia is now delivering vaccines on both the Dahlonega and Gainesville Campus.
If you are worried about where you are going to get your vaccine, do not fear. The Dahlonega Campus is administering the Pfizer vaccine on Wednesday, April 28. It will take place in the Dahlonega Convocation Center starting at 9 a.m.
Hall County is teaming up with the UNG Gainesville Campus to provide the Pfizer Vaccine to students and anyone 16 years or older. Vaccines are available by appointment only. Go to the website or call 1-888-426-5073 to make your appointment now.
Hours available to get your vaccine on the Gainesville campus is as follows:

To understand the current and future demand for vaccines on campus, the Office of University Relations sent out a survey to students and faculty. The survey asked if you were already fully vaccinated, if you have had your first dose, if you intend on getting the vaccine, or if you were unsure or did not intend on getting the vaccine.
Result sent by University Relations.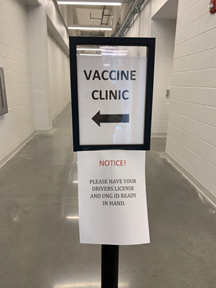 The university has administered a total of 1,044 vaccines including first and second doses.
The Assistant Director of Communications for University Relations, Edie Rodger, states, "While the vaccine is not required at this point, we still highly encourage members of the UNG community to become vaccinated so that we may safely return to more normal operations by fall."