1984 Opening Night Ends in Standing Ovation
The Gainesville Theater Alliance has done it again. Opening night of 1984, GTA'S newest production, went off without a hitch. This story of two lovers navigating an overbearing government intent on keeping them separated, resulted in a standing ovation from audience members.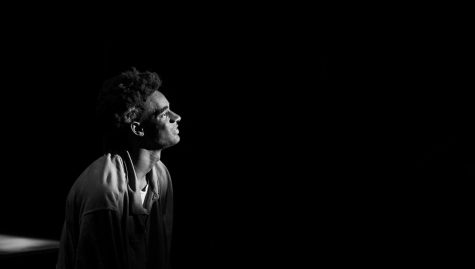 BFA acting major Jayden Edison plays Winston Smith, a man tasked with changing words for the government in order to control thought. However, Edison's character has other feelings towards the party and along with his love interest Julia cause trouble.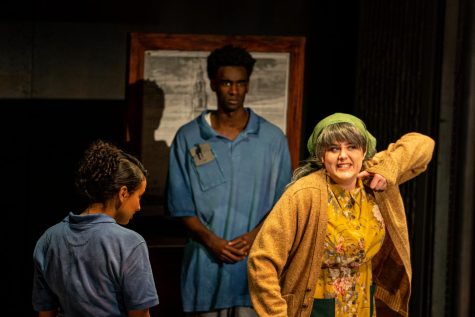 This story is a thought provoking fictional piece with parallels to our own reality. Adapted from the George Orwell novel, this production by the Gainesville Theater Alliance was captivating and professionally carried out. The overall production and performance by cast members reflected the time and care that was put into creating this production.  Edison recalled that, "We found out the cast list for the shows on December 2nd and ever since then I had a focus on getting familiar with the script and preparing for the first rehearsal on Feb 21. Since the end of February, the whole cast and crew has been working very hard to make the show come alive."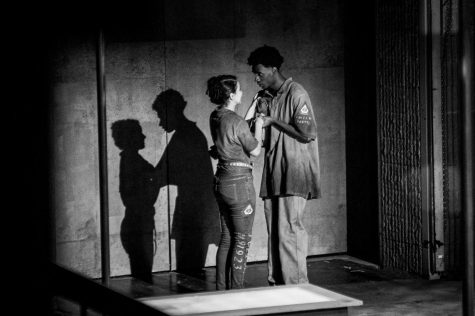 The GTA has a reputation of professionality and quality within its productions, and their season ender definitely added to that reputation. Julia's actor Michelle Stover had high praise for the efforts put in by director Zechariah Pierce and the rest of the GTA staff stating, "This was my first time working with Zechariah since I took his Acting II class my freshman year. Rehearsals with him were genuinely some of the most fun I have ever had working on a show. As actors, we could always come in and follow a new impulse or try something new in a scene. By him creating a space that was so open to taking risks, it allowed us actors to think on our feet and develop our own artistry. During this process, the cast also worked with Michael Jablonski, the intimacy coordinator for '1984' and the other artistic director in GTA. Michael also did a wonderful job of cultivating that environment and made sure that everyone's boundaries within the show were respected. I have grown so much in this process because of how they have challenged and encouraged us. I am very grateful to them for supporting me."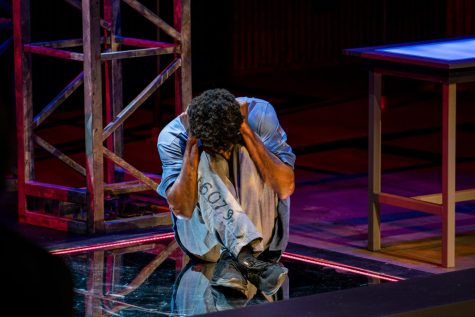 The story of "1984" encompasses an over-watching government party that controls nearly all aspects of life. Within this world, a faceless entity known as Big Brother is constantly watching people, and controlling thought, speech, morality, freedom and nearly all aspects of people's lives.
Actors raise a toast to conclude plotting of events. Photo by Mason Pearson

"Our production of '1984' is focused on the theme of synoptical surveillance through social media, rather than politics. It is about how our society lives through our screens and in doing so has degraded our personal freedoms. In a sense, we as a collective have become Big Brother and this adaptation serves as a reminder of the responsibility we each hold."- Michele Stover, 
Edison warns that, "This show can have you laugh, cry and walk away speechless. Also, Big Brother is always watching so get your tickets now or you might get sent to room 101…"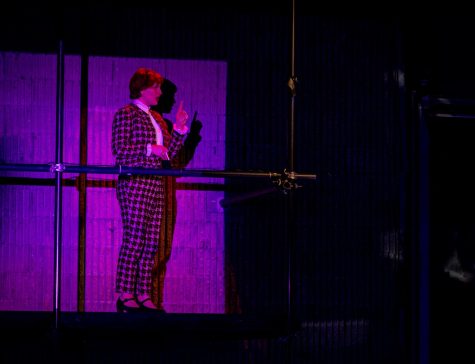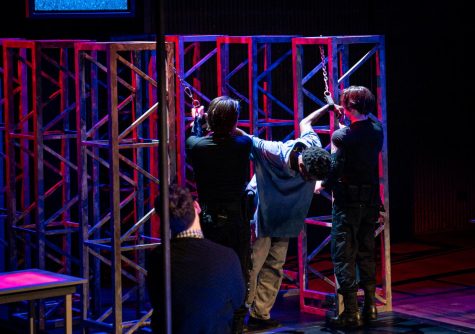 Leave a Comment
Your donation will support the student journalists of University of North Georgia. Your contribution will allow us to purchase equipment and cover our annual website hosting costs.