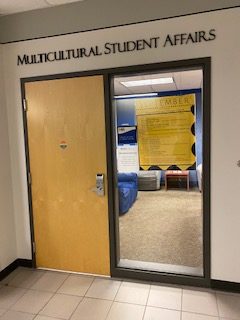 Multicultural Student Affairs has multiple clubs for students that are specific to their interests like the Asian Student Association, Black Student Union, International Student Association, Latino Student Association, and Spectrum Alliance.
"We strive to educate the entire UNG community on issues of diversity, equity, and inclusion in order to better serve our students. We are here to make all students feel comfortable and have a place on campus. MSA is not just for students of color or students from specific backgrounds, we are here to serve all students," said the director of MSA, Dr. Andrew Johnson.
Dina Makadiya, a senior biology major and president of the Asian Student Association said, "We want to help educate students on Asian culture and experience different events. This semester we are doing Diwali, which is one of our bigger events, it's easily described as India's festival of lights. We also do Lunar New Year and a boba tea giveaway around finals. I have been president for the last two years and I love it."
Juliza Abrego, a junior biology major and reservation designee of the International Student Affairs said, "We base our events around the different cultures at UNG, we found that there is a lot of foreign students here. We dedicate our events to what students tell us they celebrate in their countries. On Oct. 13 we'll be having an international candy tasting. We'll reach out to students that are already a part of the club and students who are signed up to see if they have any international candies they'd like to be there, and we'll purchase those candies and have them at the event. We are also collaborating with LSA on Sept. 18 celebrating multiple countries' Independence Day; there will be a mechanical bull at the event."
"The key thing here is that you don't have to identify with that group. You don't have to be Black to go to the Black Student Union. Anybody can join. It's about awareness, education and building a network and or community. That's the big misconception," said Johnson.