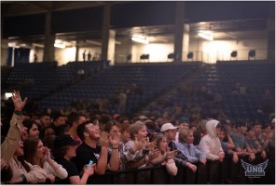 You don't have to be a "Girl in A Country Song" to go to Fall Jam this Friday. The University of North Georgia's Dahlonega Campus will host country music group, Maddie & Tae along with Radford Windham, Trey Teem and the Elijah Johnston Band. 
Doors open at the Convocation Center at 5:30 p.m. with performances beginning at 6 p.m. Students must have a physical ticket along with their student ID to enter.
According to Bryanna Darnell, the social media director for Nighthawks Entertainment, "Dahlonega students, both commuters and residents, can pick up their free ticket every day from 11 a.m. to 3 p.m. on the second floor of HOAG near the food court with their Nighthawks card, and for students that attend other campuses along with guests, the tickets cost $10 for students and $15 for guests at the door." Students and guests from other UNG campuses can pick up tickets at the door. 
Denise Gonzalez, a junior marketing major, is attending the Fall Jam this semester and is looking forward to the other events planned. Gonzalez also says that Nighthawks Entertainment "do a good job planning events." She says she attended a few of their events and enjoyed the opportunity to interact with other students on campus.
Madison Clemente, a junior strategic and security studies major, is not planning on attending the Fall Jam this semester. Clemente says, "I don't like country music, and I feel like they could have better artists with a wider variety." She thinks a vote could be helpful in getting the student body's opinion on who should perform.
Nighthawks Entertainment is also hosting several events this semester including a corn maze on Oct. 5 and a haunted house on Oct. 27.
For any additional information about the Fall Jam or future UNG events Nighthawks Entertainment can be reached on their Instagram @ungned or their Facebook page @Nighthawks Entertainment – DAH