NASCAR Introduces New Rules in 75th Anniversary
In 2023, NASCAR will be celebrating its diamond season, the 75th anniversary. NASCAR will have several unique events throughout this season. In May, NASCAR will return to historic North Wilkesboro Speedway, for NASCAR All-Star Weekend. NASCAR will be debuting its long-awaited street course in Chicago in July. But all of this doesn't come without an interesting off season with drivers moving around, teams rebranding and new rules coming into effect.
New Faces in New Places:
NASCAR's version of their off-season infamously called silly season did not disappoint. A few big-name drivers moved to different teams, and new teams were rebranded.
In September of last year, the long-awaited future of Kyle Busch had been decided. Busch departed from Joe Gibbs Racing after being with the team for 15 seasons. Busch will now pilot the #8 Chevy Camaro for Richard Childress Racing. Busch back in September compared the move to "Lebron moving to the Heat and winning a championship, Brady to the Buccaneers and winning a championship." Busch said in the introductory press conference in September.
Richard Petty Motorsports has gone under a few face lifts the past few years. Going into 2022 Petty Motorsports was rebranded into Petty GMS, bringing in Maury Gallagher to help the team. At the end of the 2022 season, it was announced that seven-time Cup Champion Jimmie Johnson would be joining the team as a part owner and driver. It was revealed last month Petty GMS will be rebranded into Legacy Motor Club. Johnson will be driving part time for Legacy Motor Club driving the #84 Chevy Camaro. Johnson's first race will be at Daytona this weekend. Eric Jones will be returning for his second season with the team driving the famed #43 car. This will be the first season ever in NASCAR where the Petty name will not be featured on a car.
Noah Gragson will be making his first full Cup season debut this year driving the #42 for Legacy Motor Club.
2022 was another season of disappointment for Cole Custer in the #41 car, Stewart Haas-Racing has decided to make a driver change going into 2023. Ryan Preece will be driving the #41 Ford Mustang. Custer will be driving for Stewart Haas-Racing in the Xfinity series for 2023.
Rule Changes:
A few weeks ago, NASCAR released its 2023 rules. While a lot stayed the same, there were some major tweaks to some important rules.
When NASCAR switched to the next-gen car last season, tires switched from four lug nuts to only one. In 2022 there were numerous times where wheels loosened or came off during a race. NASCAR has had a rule for this since 2015. If a wheel comes off or there are loose lug nuts found post-race, crew chiefs will be suspended for four races and the team will be fined. In 2023 the penalty has been revised. If a wheel comes off on track during a race, the car will be penalized for two laps on pit road and two members on the pit team will be suspended for two races.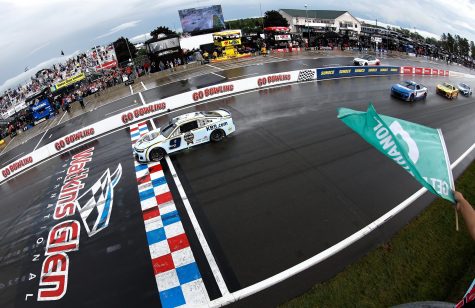 For the past few years NASCAR has been testing a wet tire package for the shorter tracks on the schedule. As part of a rule change for 2023 the project got the green flag. The new tire package, consist of a tire that has more tread and is able to grip the racetrack more than a regular tire in wet weather conditions.
Now instead of just road courses being able to use the wet weather package these tracks listed can now use wet weather tires in 'damp' conditions:
 LA Coliseum
Phoenix Raceway
Martinsville Speedway
Richmond Raceway
North Wilkesboro Speedway
The Milwaukee Mile
Lucas Oil Indianapolis Raceway Park
New Hampshire Motor Speedway.
Windshield wipers and a blinking light on the back of the cars will be required on the tracks listed before. The first track to mandate such rule will take place is for next month's race at Phoenix Raceway on March 12.  This is a big move for NASCAR as rain has impacted a lot of races in the past, but we could now see less delays in 2023.
Back in 2017, NASCAR announced that all races going forward would feature stage breaks. Stages break up the racing action and serve as a "free" caution commercial break for the TV networks. Stages also award points, finishing first in stage one or two will award a driver 10 points and one playoff point.  Races since then have been broken up into three different stages, which depending on the race all vary in length. Most races but not all, have the last stage as the longest stage of the race. Starting in 2023 NASCAR will no longer throw the caution at stage ends for road courses, but stages will still award points at road courses despite no caution. "We wanted to put the strategy element back into road courses," said NASCAR Senior Vice President of Competition Elton Sawyer.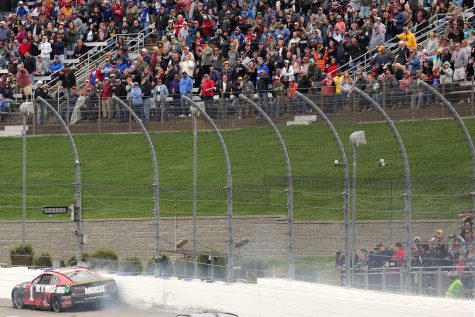 Last season Ross Chastain used late race heroics to advance him into the Championship four by riding the wall in turns three and four. The move dubbed "Hail Melon" will no longer be allowed announced NASCAR. The NASCAR rule book now indicates that a move such as Chastain's is a safety hazard. Anybody trying to use this move will be assessed a time penalty.
"I have no plans on ever using that move again, believe me it wasn't pleasant." – Ross Chastain after Martinsville last year
Previously in the Cup Series, in order to make the playoffs drivers must be in the top 30 points to make the 16-driver playoff. For 2023, the rule has been waived, now anybody that gets a win can be playoff eligible. There were similar rules for the Xfinity Series and Truck Series as well. In the Xfinity Series and Truck Series it was top 20, but that rule has also been removed.
Leave a Comment
Your donation will support the student journalists of University of North Georgia. Your contribution will allow us to purchase equipment and cover our annual website hosting costs.
About the Contributor
Devin Kupka, Staff Writer
Hi I'm Devin Kupka. I'm a communications/multi-media/journalism major. Junior. Gainesville. My favorite part about journalism is all the different events...