The Auto Club Speedway's Last Lap
This past weekend's NACSAR Cup Series, and Xfinity Series race will be the last time NASCAR races on the two-mile configuration of Auto Club Speedway. Announced back in 2020 the track would undergo a significant renovation to reconfigure the track into a short track.
On Saturday rain and snow canceled both race and qualifying for the Cup Series, and Xfinity Series. The Production Alliance 300 Xfinity race was schedule for Saturday, but was postponed until after the Cup race on Sunday.
The Pala Casino 400 was run as scheduled on Sunday and it was in front of a sold-out crowd. While this years running of the Cup race at Auto Club was more tame than last year's, it wouldn't leave without drivers being frustrated after an odd wreck. On lap 88, the field was taking the green flag, but carnage began in a rare restart zone wreck. Nine cars were involved. A lot of drivers were upset about the wreck and blamed Joey Logano for slowing up half the field.
 "The restart zone is bigger; you can't anticipate as much without getting in trouble. The car inside of me was laying back so I went late in the zone. I didn't break check anyone…." – Joey Logano post-race.
Ross Chastain swept both stages and led the most laps. Kyle Busch would end up with surprise victory leading the last 20 laps to win the race, with a margin of victory of 2.998 seconds. Busch winning in only his third race with his new team at Richard Childress Racing.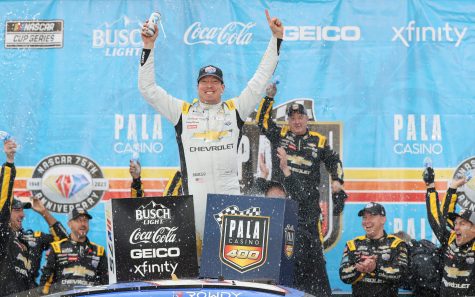 "Why is anyone surprised, its' mind boggling to me, he's [Kyle Busch] one of the best race car drivers to do this, it didn't surprise me. For anyone that was surprised should rethink their NASCAR knowledge," said Chase Elliott after the race.
History was made on Sunday, with Kyle Busch winning the Cup race.  He would break Richard Petty's consecutive winning streak of 18, now winning at least one Cup race in 19 different seasons 2005-2023.
"There's not very many records that you can beat that Richard Petty has, and certainly that was one that I set early on a long time ago… It's a sad day for me to see this racetrack be in its last race being a two-mile configuration. Glad I was able to win the final run here,"  Bush said post-race.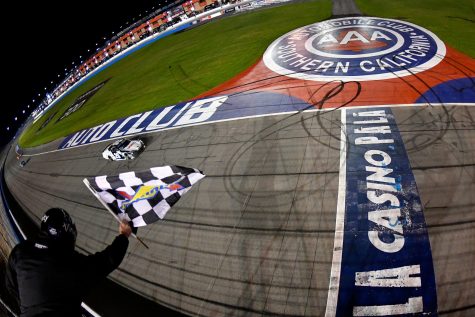 The final race held at Auto Club Speedway would be the postponed Production Alliance Group 300. Defending Xfinity Auto Club race winner Cole Custer would sweep both stages, but would end up wrecking out of the race on lap 92. John Hunter Nemechek came out on top winning. Nemechek led 49 of the 150 laps run. There was a total of 10 caution flags.
As previously announced, Auto Club Speedway plans on reconfiguring the current two-mile layout into a short track. NASCAR who owns the track announced that it sold 444 of its 533 acres of land last week. Leaving only 89 acres of land left for the track. People around the industry are concerned that there will not be enough land left for a race to be properly held at the track. NASCAR has stated that in the future they will have to lease parking for future events at the track. NASCAR sold the land for upwards of $500 million. The land Auto Club currently sits on is on very valuable land for distribution centers and other industries in Southern California.
"Yeah, I think we need to be in Southern California… my first Cup Series win was here. We've had five wins, including today, so just a great time at California Speedway… Just hope that the next track that we have puts on the show that we've been able to see here for the last probably 10 years, 12 years." – Kyle Busch post-race
Leave a Comment
Your donation will support the student journalists of University of North Georgia. Your contribution will allow us to purchase equipment and cover our annual website hosting costs.
About the Contributor
Devin Kupka, Staff Writer
Hi I'm Devin Kupka. I'm a communications/multi-media/journalism major. Junior. Gainesville. My favorite part about journalism is all the different events...