Nighthawks will be affected in diverse ways when the new Free Application for Federal Student Aid (FAFSA) opens this December. Data predicts that, while most students will now be eligible for the Pell Grant, a handful of University of North Georgia learners are poised to lose aid.  
That's because the 2020 FAFSA Simplification Act, which delayed the form's usual October release, includes changes to both the length of the FAFSA and its method of calculating eligibility.  
The Estimated Family Contribution (EFC) component of the form is being replaced by the Student Aid Index (SAI) which rates income against the federal poverty level and can have a value as low as –1500.  
Most students' aid will remain within a $500 margin of years past. However, a percentage of students from all income levels are predicted to see either new Pell Grants or an increase in aid greater than $500. Only a small percentage of students from the two highest income levels may experience loss of aid totaling $500 or more.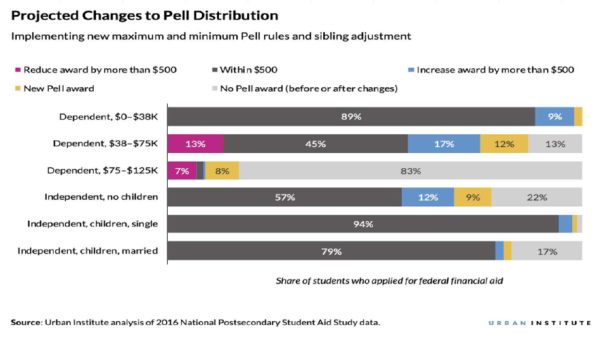 "Approximately 40% to 44% of our student body, on average each academic year, would have some Pell Grant eligibility," Assistant Director of Financial Aid Rodney Harris said. "Under the new calculation, we estimate that it could be as high as 72%." 
Those who earn Pell Grant eligibility based on household enrollment, however, may not be as lucky. The SAI, unlike the EFC, counts only one college student per household, so those who qualified for aid by having siblings or parents in school stand to lose.  
UNG Financial Aid forecasts that less than 300 students will be negatively impacted by the changes, but Harris says that loss of aid was not necessarily intended. 
"It's impossible to develop a one-size-fits-all solution for every scenario, so this is the best they could do," Harris said.  
Financial aid departments nationwide have been made aware of this quirk in the form. The school will be able to identify the students who lose eligibility and show them alternative ways of paying for college, with loans being a last resort.
"
If your eligibility is significantly reduced from this year, we encourage you to contact our office and a financial aid counselor will be happy to meet with you to discuss how we can help you  
— Rodney Harris, Assistant Director of Financial Aid
Students with brothers or sisters in college will not automatically lose Pell Grant, but those who feel they may be affected should reach out to financial aid now and begin working out a contingency plan just in case.  
Financial aid encourages all students to fill out the application because they may be surprised by the results. The 2024-2025 FAFSA has also been compressed from a daunting 108 questions to just 46 for an easier, streamlined experience.  
Students will be able to use the IRS Data Retrieval Tool to automatically upload family tax data, eliminating the need to manually enter numbers from a tax form, and can access the application in eleven languages.  
Visit the UNG Financial Aid website for more details on the updated FAFSA.