Elementary school teacher and mom Shelly Black has always been known for her long blonde hair. However, last December, her husband and children noticed something: Her hair was falling out.
"I had extremely thick hair and didn't notice how much was falling out," said the 39-year-old teacher. As of now, her hair loss has become excessive.
"I've lost about 50% of my hair's volume." – Shelly Black
When asked why this is happening, the educator had a simple answer: COVID-19.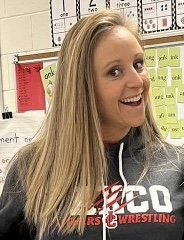 Black contracted COVID on Sept. 3, 2021, with a high fever of 104 degrees. She lost her taste and smell on the third day but claims her other symptoms were fairly mild. "I felt back to 100% in a few days," she said, "and my taste and smell returned in two weeks."
Seeing as Black is not a long-hauler, as are many Americans post COVID, you may be wondering: Why hair loss, and why now? Dermatologist Esther Freeman told The Atlantic that hair shedding is common after COVID-19, and it happens to people whose symptoms resolve quickly as well as those who develop long COVID.
The condition is called telogen effluvium. According to the American Academy of Dermatology Association, it happens "a few months after having a high fever or recovering from an illness." The AADA explains that a fever or illness can cause more hairs than usual to enter the telogen (shedding) phase of hair growth.
However, people who never contracted COVID are also experiencing this condition. The Atlantic states that intense physical or emotional stress can push up to 70% of hair strands into the shedding phase, disconnecting them from their blood supply to conserve resources for other bodily functions.
"Handfuls of hair can come out when you shower or brush your hair." – AADA
The condition can last anywhere from six to nine months, but if stress is the cause, the AADA stated that hair shedding will only cease when stress ends.
Black is not alone in her condition, as a Chinese study found that 22% of hospitalized COVID-19 patients reported hair loss months later. Additionally, the principal at her place of work and her own mother are also suffering from hair shedding post COVID.
Regardless, the elementary school teacher is taking steps to regain blonde bombshell status. "I've started taking collagen and biotin," she said. "I have also started red light therapy for hair loss, and I'm hoping to restore my locks to full thickness."