UNG Parking Frustrates Students
Imagine, you're arriving at University of North Georgia Gainesville campus in the morning, driving around the parking lots trying to find a spot. You look at the time and your class is about to start in two minutes, so you decide to just back into the first spot you find. After class, you come out to a ticket of $50, $25 for backing up and another $25 for parking in an unauthorized area. What can you do? According to parking services, you can either pay upfront and get rid of the hold, or you can submit an appeal and wait a month for a decision. Even after that decision is made, if your appeal is not approved, you'll still have to pay the fees. This is only a small part of the ongoing parking struggle students face on campus.
Complaints from students and faculty include that there are not enough spaces, parking should be free, and you should be allowed to back into a spot. UNG isn't the only school to have complaints about their parking situation. Other public universities like the University of Georgia and Georgia State University have heard similar complaints as well, with little to no action being taken.
Comparatively, UNG does have cheaper parking, only requiring students to register their car online for their permit. Additionally, UNG stated that as of May 1st, 2019, all new and current students/faculty members license plates will act as their permit. Each campus has a parking enforcement car that goes around scanning licenses with its built in License Plate Recognition, or LPR.  UGA's parking permits range from monthly installments of $10, to a one-time payment of $720 for year-round access to certain zones only. Students at UGA must pay these fees every year, unlike UNG students, who's parking is paid in their tuition.
However, faculty and staff across all campuses are subject to new parking fees as of 2017 according to this UNG News article. Full time faculty and staff who work 10-12 months must pay an annual fee of $200. Part time faculty and staff who work less than 30 hours or don't receive benefits, pay an annual fee of $100. These fees do come with slight compensation. According to the same article, "Hourly employees will have an increase of approximately 10 cents per hour to coincide with the parking fee." They state that, "Full-time monthly (salaried) employees will have an increase to their base pay that equates to a $16.67 monthly increase." The article then goes on to explain that full-time faculty of 12-months receive "contract addendums" and the same $16.67 monthly increase as the full-time employees. The full-time faculty of 10 months receive a $20 pay increase to compensate. Finally, part-time faculty get a $10 increase and "amended part-time faculty teaching agreements."
When asked about why parking isn't free on campuses, UNG Gainesville Parking Services representative, Kristie Metcalf, had this to say in her email.
"Parking and Transportation does not receive any appropriations from the State of Georgia and is designed to be self- operational. Revenue received from Parking and Transportation is put back into the University Parking and Transportation." – Kristie Metcalf, UNG Gainesville Parking Services
Metcalf further broke down how the payments from tickets, parking permits and transportation costs that are included in tuition are put towards the parking department. "86.36% debt, repair and replacement to decks, 4.55% maintenance, build new surface lots, and 9.09% maintenance, fuel, salary, and purchase of new buses."
Metcalf said that on average, the UNG Gainesville parking services distributes about 60 tickets a week. Once a month, a committee comprised of faculty, staff and students meet to vote and decide on decisions of all appeals. She also revealed that parking services has no vote on the committee as per the UNG Parking and Transportation Services Rules and Regulations, Article V, Section C-3.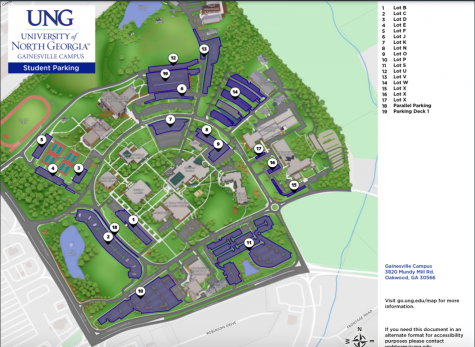 After further investigation, no results of an official parking committee were found. Who is on this committee board is still anonymous, as well as if there are new people chosen every month to keep decisions unbiased, or if it's the same people every time. Contact information for the parking committee isn't available either to further argue their decision of your appeal. This ghost organization is essentially judge, jury, and executioner. Their one decision on your appeal is final and cannot be challenged further. The only proof this committee exists, is by word of mouth from parking services who conveniently don't have a say in the committee itself.
When choosing to pay in full or to submit an appeal, all students, faculty, and employees have a limited time frame as to when they can pay their ticket at a discount. If you choose to appeal the ticket however, you also choose to forfeit that discount while you wait a month to get a decision made.
When asked why the discount is forfeited if choosing the appeal option, Metcalf did not give an answer. She wrote, "When appeals are submitted for parking citations the $10 discount is forfeited. You either have the option to take the discounted price, or choose to see if the appeal is granted by the parking committee." She also stated that the pricing for these tickets has been the same "for 20 plus years" and that there are no extra charges put towards unpaid parking citations.
For some vehicle owners, parking may be more difficult to locate. There are only 11 designated spots specifically for motorcycles on campus, one small area for electric vehicles at the bottom of the parking deck next to the Martha T. Nesbitt building, and one designated spot for wounded warriors, in Lot B, by the administration and Dunlap-Mathis buildings. There are about 122 spots for accessible access that anyone with an impairment can use. The lack of spaces creates a hectic experience since some worry they will end up with tickets if they can't park in their respective spots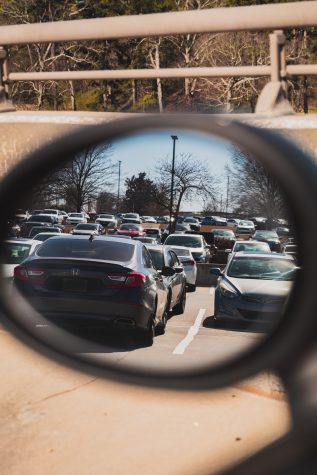 The UNG online map and the previous article that talked about how faculty had to pay annual fees for parking also indicates that UNG Gainesville provides 500 spots for faculty and staff. According to the directory of faculty and staff, there are currently only half the amount of parking spaces for employees.
All the extra spaces could be re-allocated to students, the physically or mentally impaired community, or for wounded warriors that attend UNG. If they even exist, is there any way that the parking committee can expedite their decisions so students and faculty don't get sent to collections?
UNG parking services does their job dutifully, but there are improvements that can still be made across all campuses. With the right resources and backing, perhaps changes can be made to better satisfy the students, faculty and staff.
Leave a Comment
Your donation will support the student journalists of University of North Georgia. Your contribution will allow us to purchase equipment and cover our annual website hosting costs.
About the Contributor
Eli Hogan, Staff Writer
Junior majoring in mass communications with a focus on photojournalism. I've been doing photography for around 3-4 years now, traveled around the world,...